Infowars
Fortune 500 corporation eBay has apparently pulled a listing too politically hot too handle – a photo of actor and outspoken critic of the Second Amendment, Jim Carrey.
On Wednesday Infowars.com ran an article covering the listing posted on the popular online auction website. "An enterprising eBay user has put an autographed photo of actor and comedian Jim Carrey up for bid. He hopes to raise enough money to buy a new Glock G30S .45 ACP, a handgun retailing for over $600," we reported.
"Hopefully I can get at least that much for the autographed photo. If it sells for more than I'll get a laser sight for it and take some gun safety classes and get my 'concealed carry' permit," explained "astrobuzz," the seller.
On Thursday, hours after it was posted, the listing suddenly disappeared. "This listing (281083705945) has been removed, or this item is not available," an eBay page reports.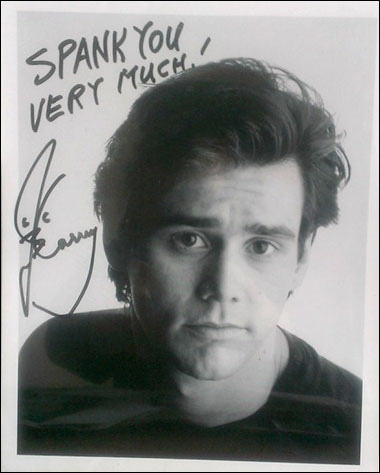 The listing prompted a "mini-trend," The Hollywood Reporter explained on Wednesday. "The response to the original listing, not surprisingly, had attracted copycats. User 'paradisecarwash,' for example, had posted the same item with a similar description and had garnered a $50 bid, and 'Morpheus _2080′ went the extra mile: For a minimum $50 bid, an eBayer could buy the photo plus a Dumb and Dumber DVD, and he even posted a photo of the gun he wants to buy," the celebrity website reported.
It appears the original post was modified on Wednesday and any reference to firearms removed. It is not clear if this was a decision on the part of the seller, identified as "astrobuzz," or a move by eBay. Despite the modification, the listing was sent to the memory hole or possibly deleted by "astrobuzz."
Ebay's terms of service do not prohibit mentioning firearms in listings or references to the Second Amendment.
The Hollywood Reporter said eBay did not respond to a request for comment.