By: David_DeGraw
When Obama launched his re-election propaganda campaign to trick the American public into thinking that he intends to end the Af-Pak War, he said that the "War on Terror" has cost $1 trillion over the past decade. While that is a staggering amount of money, he was being deceitful once again.
As you may have heard, a newly released study by the Eisenhower Research Project at Brown University revealed that the cost of the War on Terror is significantly greater than Obama has said. The little passing coverage the study received in the mainstream press cited $3.7 trillion as the total cost, which was the most conservative estimate. The moderate estimate, which the mainstream media ignored, was $4.4 trillion. In addition, interest payments on these costs will most likely exceed $1 trillion, which brings the total cost up to at least $5.4 trillion. The report also states that the following costs are not even included in this total:
"THESE TOTALS DO NOT INCLUDE: Medicare costs for injured veterans after age 65; Expenses for veterans paid for by state and local government budgets; Promised $5.3 billion reconstruction aid for Afghanistan; Additional macroeconomic consequences of war spending including infrastructure and jobs."
David Callahan, reporting for The Policy Shop, summed up the report's cost estimates:
"… the total direct and indirect costs of the wars in Iraq and Afghanistan may exceed $6 trillion…. That figure comes from combining congressional appropriations for the wars over the past decade ($1.3 trillion), additional spending by the Pentagon related to the wars ($326 – $652 billion), interest so far on Pentagon war appropriations, all of which was borrowed ($185 billion), immediate medical costs for veterans ($32 billion), war related foreign aid ($74 billion), homeland security spending ($401 billion), projected medical costs for veterans through 2051 ($589 – $934 billion), social costs to military families ($295 – $400 billion), projected Pentagon war spending and foreign aid as troops wind down in the two war zones ($453 billion); and interest payments on all this spending through 2020 ($1 trillion)."
Once you add up all these costs, and also consider the fact that these wars are not ending anytime soon, the War on Terror will easily cost us well over $6 trillion. To put the War on Terror's cost in context, according to the Congressional Budget Office, the total cost of World War II, adjusted for inflation, was $4.1 trillion.
Another major deception is the reported annual military budget. The FY 2012 military budget is often cited as being $690 billion. Again, that is a huge sum of money for one year. However, when you add up all the other military expenditures not included in this budget, you find that our true total annual budget "likely exceeds $1.5 trillion."
To put this cost in perspective, as the average American has little understanding of how much money this is, one trillion is equal to 1000 billion. If you took all the state budget deficits and combined them, which are leading to cuts in vital social programs that will negatively impact the lives of millions of Americans, you would need a small fraction of one trillion, $140 billion (roughly equivalent to the annual military interest payment), to balance every state budget and avoid cuts to all programs.
Hundreds Of Billions Of Dollars In Fraud And Waste
When you breakdown the spending on the War on Terror, you see hundreds of billions of dollars in shocking fraud and waste across the board. When it comes to fraud, a Defense Department report revealed:
"The military paid a total of $285 billion to more than 100 contractors between 2007 and '09, even though those same companies were defrauding taxpayers in the same period… What's perhaps most shocking is that billions of dollars went to contractors who had been either suspended or debarred for misusing taxpayer funds. The Pentagon also spent $270 billion on 91 contractors involved in civil fraud cases… Another $682 million went to 30 contractors convicted of criminal fraud."
There have also been several cases where billions of dollars have gone missing. To name one recent revelation, the Federal Reserve shipped between $6.6 billion to $18.7 billion to Iraq for reconstruction that was stolen. The reason there is such discrepancy in the amount stolen in this case is due to the fact that the New York Federal Reserve is refusing to disclose the total amount. This is just one of several cases where billions of dollars in aide to Iraq and Afghanistan have gone missing. Not to mention the obscene and exorbitant fees charged by many private military companies. Earlier this year, the Congressional Commission on Wartime Contracting revealed that "tens of billions of dollars" have been wasted on private military contractors in Iraq and Afghanistan – and the amount spent on private contracting has dramatically increased during the Obama Administration.
When it comes to shocking examples of waste, it costs the military in Afghanistan $400 for a gallon gas, and the Marines alone use 800,000 gallons a day. Another report reveals that the military spends $20.2 billion a year on air conditioning. That's $20.2 billion a year on AC. There are more absurdities in military spending than you can imagine. The list goes on and on.
Let's also not forget that the Pentagon's "own auditors admit the military cannot account for 25 percent of what it spends." By these measures, the estimated overall total of $1.5 trillion in annual military spending would mean that $375 billion goes unaccounted for, per year.
War Is A Racket
For anyone who researches this, it is easy to see that the primary goal is not our safety, it is huge profits for military companies and global banking interests. As famed two-time Congressional Medal of Honor Award winner Major General Butler said:
"War is a racket… easily the most profitable, surely the most vicious… It is the only one in which the profits are reckoned in dollars and the losses in lives….

It is conducted for the benefit of the very few, at the expense of the very many. Out of war a few people make huge fortunes….

I spent 33 years and four months in active military service and during that period I spent most of my time as a high class muscle man for Big Business, for Wall Street and the bankers.

In short, I was a racketeer, a gangster for capitalism."
The global financial elite profit off of the war, while the American public bares the severe financial costs. In this regard, not to mention the loss of life and civil liberties, the War on Terror is a war against the American people. As President Eisenhower said, every dollar spent on war is a dollar not spent on education, food, health care, etc:
"Every gun that is made, every warship launched, every rocket fired signifies in the final sense, a theft from those who hunger and are not fed, those who are cold and are not clothed. This world in arms is not spending money alone. It is spending the sweat of its laborers, the genius of its scientists, the hopes of its children. This is not a way of life at all in any true sense. Under the clouds of war, it is humanity hanging on a cross of iron."
Spiraling Toward World War III
When you research the geopolitical environment, as scary as it sounds, you will conclude that if we stay on our present course, we are headed for an escalation in wars. As we spiral toward World War III, with collapsing economies, increasingly extreme weather conditions, limited resources and rising demand, the US military machine is on steroids, creating enemies and arming brutal regimes all over the world.
The pivotal US relationship with Pakistan is going from bad to worse. Leading American adversaries such as Afghanistan, Pakistan, North Korea, Venezuela, Russia, Iraq, Syria and Iran have all been building strong alliances with China. Obama continues to support the US-NATO war with Libya and the Saudi Arabian led military crackdown on popular uprisings in many countries throughout the Middle East and Northern Africa. In this region, Yemen, Syria, Bahrain, Somalia and Ivory Coast, to name a few countries, are all flaring up in armed conflict. Not to mention Israel's escalating conflicts with Palestine, Lebanon, Syria, Hamas, Hezbollah and Iran. The highly under-reported international drug war is also becoming much more violent, with private military contractors once again reaping huge profits.
Mix all these increasing tensions with runaway military spending and war profiteering, and you have Eisenhower's worst fears realized, a world dominated by out of control military companies.
~ To track how your hard-earned tax dollars are being wasted, follow our military spending news wire here: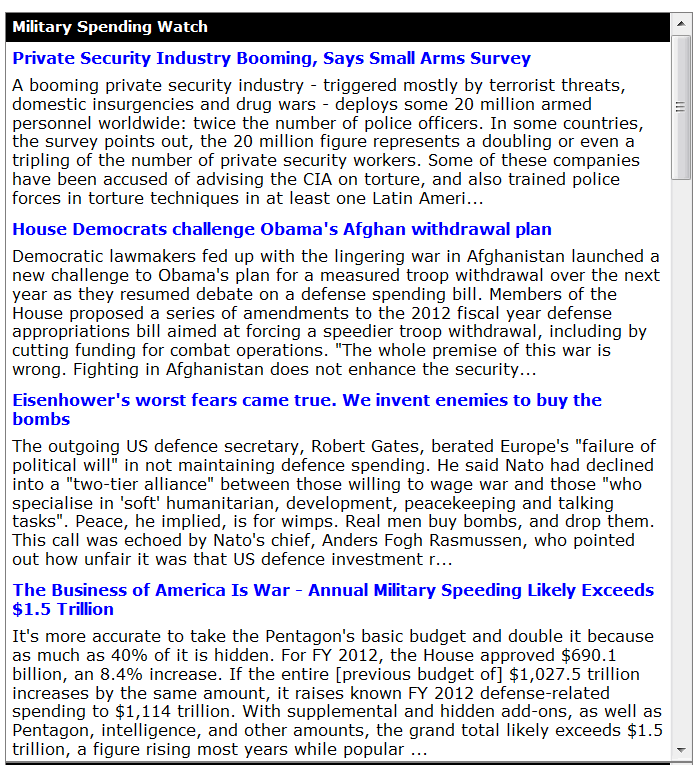 Ampede Status We are fighting to remain 100% independent, completely free from partisan influence. If you respect our work, please donate to support our efforts here.
David DeGraw is the founder and editor of www.AmpedStatus.com. He is the author of The Economic Elite Vs. The People of the United States of America, and his forthcoming book is The Road Through 2012: Revolution or World War III.