Melissa Melton
Infowars
Washington D.C. officials claim that 800,000 people attended President Obama's inauguration ceremony yesterday, but a video on YouTube.com shows Obama supporters first going through a Transportation Security Administration (TSA) tent before they could enter the National Mall.
Shouts of TSA workers at attendees that "all bags will be searched" and instructions to turn on all of their electronics for review can be heard over the din. The video shows hundreds of people walking through metal detectors before being scanned with metal detection wands and having their bags rifled through and items removed.
Agents clad in their infamous blue latex gloves are seen reaching inside people's coats and pockets and patting some people down. At one point, a TSA worker in the background appears to be looking through an attendee's camera.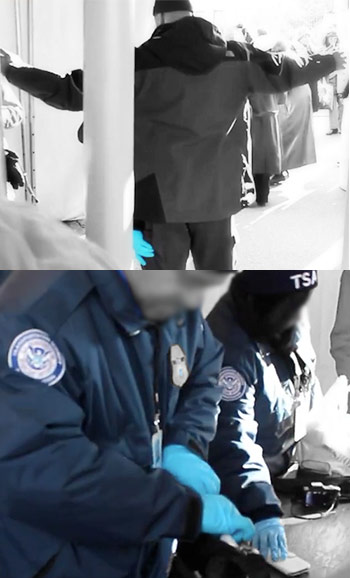 TSA Attends Obama's 2nd Inauguration
Citizen journalist Julio Rausseo of JNReports, who filmed Obama's TSA inauguration security asks, "Was the use of TSA agents needed when National Guard Troops, FBI agents, Secret Service agents, ATF, DHS, DC Police were all present near and around the National Mall?" in the video's description.
During filming, Rausseo wonders aloud, "Are we entering the presidential inauguration or are we entering jail?" as he stands next to a bright yellow sign that reads, "Attention: by entering this secured area, you are consenting to a search of your person and your belongings" complete with a long list of prohibited items. Another yellow sign reads, "Upon entering the security tent, please open your outer garments."
Over the last few years, we've seen the TSA goon squad move out of airports and into train stations, bus depots and onto our streets. In 2011, we reported that TSA VIPR teams would begin taking over our highways, setting up internal checkpoints throughout the country to complete roadside checks of commercial vehicles. An official request published in the November 30, 2012 Federal Register shows the agency has now asked the Office of Management and Budget for permission to conduct "security assessments" on not only highways, but at 140 other public transportation hubs as well.
The TSA has been reaching outside of airports for years, slowly expanding operations throughout the country to large public events as well. Not only have VIPR teams showed up to pro football games, but the TSA also helped the Secret Service pat down attendees at last year's Democratic National Convention. After a federal judge ruled the TSA could grope high school students at proms and graduation events, the agency had even been scheduled to attend a prom in Santa Fe but failed to show. Undercover TSA spies were also placed on Houston city buses to serve a pre-crime agenda, questioning passengers, randomly searching bags and looking for "suspicious activity."
When asked about his experience going through TSA security before he could attend the President's inaugural shindig, Rausseo replied, "I was blown away more at the people, not questioning anything, just going along with it."
This video serves to further illustrate that the "transportation" portion of Transportation Security Administration is apparently optional, as the TSA is moving out of only "securing" areas where transportation is taking place to condition the general public to the ever-present American police state.
Infowars.
Add To The Conversation Using Facebook Comments