Lyn Leahz
These alarming levels come as the heaviest travel days of the year have millions of Americans flying through air that they have no idea may be impacted by dangerous levels of radiation. No information exists in any airport in the United States that alerts travelers to the danger.  EnviroReporter.Com
But why? Experts are greatly concerned, though unsure if it is a result of Fukushima, or something much more sinister. What is happening? Could it be that the world as we know it is falling apart, just like we were warned would happen in the book of Revelation?
According to EnviroReporter.Com:
Government and private radiation stations pick up coast to coast climb surpassing summer surge
U.S. Environmental Protection Agency RadNet radiation monitors have detected renewed surges in atmospheric readings of dangerous beta radiation across the country. Over a dozen metropolitan test sites have registered four-month highs in EnviroReporter.com's most recent comprehensive assessment. These figures, compiled from government graphs and organized at RadNet Air Monitoring, show even greater radiation levels than the already high detection exposed in the August 7 article U.S. air radiation surges higher.
Beta radiation-impacted cities in this fall included San Diego, Bakersfield, Phoenix, Amarillo, Montgomery and Madison. Some of these RadNet sites recorded beta readings literally going off the chart at 1,000 total beta counts per minute (CPM). Though Los Angeles' beta station hasn't worked in over a year,EnviroReporter.com tracks beta emissions through dust analysis from HEPA filter machines located in its Santa Monica offices. The latest period's beta radiation detections were over eight times the same sources readings in late summer.
Some of the highest registering cities also were markedly higher than the same site readings shown on RadNet in 2013. Compared to its November 27, 2013 reading, Tuscon's 460 CPM reading on the same date a year later was over 10 times more elevated. Phoenix's November 28 reading of 735 CPM was over 21 times higher than exactly a year ago. San Diego, which has inexplicably seen its airborne beta analyses skyrocket over the last year, hit 650 CPM October 1. That huge measurement, in a town with normal background around 20 CPM, was 60 times higher on the same date in 2014 than in 2013.
One commenter shared his concerns, stating:
"These readings seem astronomically high," said one EnviroReporter.com commenter in response to our November 23 Nationwide Radiation Report. "What could be the cause of such a surge in radioactivity? I find it hard to believe that it is all from Fukushima unless something there has changed dramatically, such as a collapse of one of the pools used to store and cool spent fuel rods. Any ideas? This could have a very severe impact on our health and the health of our environment. I'm very concerned."
It is important for us to know just how much radiation is accumulating in our air in comparison to normal background numbers. This is vital in order that the overall population can be somewhat protected from these poisons, which are odorless, tasteless, and invisible. EnviroReporter.com, as well as experts and manufacturers, consider 100 CPM to be an alarming trigger. Coincidentally, many United States cities transcended this minimum with astronomical figures, measuring many multiples of anything that could possibly be regarded as insignificant.
EnviroReporter also stated that:
Radiation levels exceeding three times background concentrations are considered a tripwire for concern as well, with 100 CPM approximately equating this level. The California Highway Patrol deems anything above this threshold as a potential hazardous material situation necessitating appropriate HazMat protocols. 
A private citizen-sourced radiation network has identified at least one hot spot in St. Charles, Illinois. Information supplied EnviroReporter.com from Australian environmental activist Alan Manson shows extremely elevated readings in St. Charles, Illinois."I have been accessing certain radiation monitoring sites across the USA through the http://netc.com website for a while now, and have noted that one site west of Chicago IL (St. Charles) is regularly producing extreme readings every 24 hours as shown in the chart below," Manson said in an email toEnviroReporter.com November 28. "Below is the latest chart from St. Charles that should be of extreme concern to anyone living in the Chicago area. It concerns me that the authorities and the media are silent regarding this dangerous situation."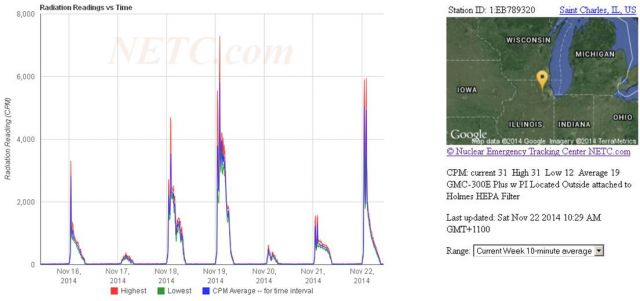 "At St. Charles IL, a peak reading of 7,298 was recorded during November," Manson wrote subsequently. "Of greater concern at this site, regular emissions have been detected over the past 5 days, which commence around 1 am and last for approximately 6 hours."
Breaking down the latest EPA Radnet numbers is a justifiable cause for extraordinary concern in itself. These figures reveal just how toxic this nation's air really is. However, the mere statistics and data, considering 75 percent of it is missing, may be in jeopardy soon enough as Congress will more than likely be eagerly awaiting to cut any program that could potentially place the formidable nuclear industrial complex under fire.
It should come as no surprise that in a January article from ENE (Energy) News, it was stated that:
Half Moon Bay Review, Jan. 3, 2014 at 8:21p ET: [San Mateo] County health officials first learned of the radiation levels last week, and they sent their own inspector on Dec. 28 to Pacifica […] the county inspector measured the beach to have a radiation level of about 100 micro-REM per hour [1 microsievert per hour], or about five times the normal amount. […] Although the radiation levels were clearly higher than is typical, [San Mateo County environmental health director Dean Peterson] emphasized that it was still not unsafe for humans. […] Peterson admitted he was "befuddled" as to why radiation levels were higher than normal, but he was skeptical that the Fukushima meltdown could be the cause. He noted that many innocuous items could spike the radiation levels in an area, including red-painted disposable eating utensils. […] Peterson forwarded the matter to the U.S. Environmental Protection Agency and state Department of Public Health […]
With all the information given, I am seriously wondering why the inspector, befuddled as to why the radiation levels were higher than normal, would state that it was unsafe for humans, or a reason for immediate concern.
Dean Peterson, San Mateo County environmental health director stated that, "It's not something that we feel is an immediate public health concern […] We're not even close to the point of saying that any of this is from Fukushima. […] I honestly think the end result of this is that it's just higher levels of background radiation."