Adan Salazar
Infowars
Actor Alec Baldwin was furious yesterday after the Transportation Security Administration singled his 5-month-old daughter out as a potential terrorist.
The 30 Rock star was apparently traveling back to the United States from the Bahamas when his infant daughter was "randomly selected" for an enhanced screening.
Despite numerous vows to curtail his use of the service, the Beetlejuice cast member took to Twitter to relieve his anger.
"Flying from Nassau, Bahamas 2 NY. TSA 'random selects' my 5 month old daughter 4 a pat down. I am not kidding," Baldwin tweeted, adding #travelinginUSisadisgrace in case anybody was unclear of his sentiments.
Baldwin provided additional clarification in a follow-up tweet (that has evidently been deleted):
I guess what I'm saying is: Traveling in the US is a pain in the f%#&ing ass.

— ABFoundation (@ABFalecbaldwin) January 28, 2014
Baldwin's experience is one far too familiar to U.S. travelers, but at least screeners were kind enough not to strip search his daughter, as they did the boy in the following video:
As we reported earlier this month, Russian TV celebrity Ksenia Sobchak also recounted a horrific TSA tale, in which she claimed she was "stripped naked" and searched by a female agent while traveling through Miami International Airport.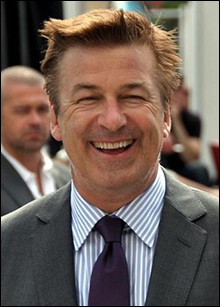 Alec Baldwin at 2012 Cannes film festival / Photo: Georges Biard
Susie Castillo, 2003′s Miss USA, was also angered to tears following her ordeal with the TSA after a screener allegedly fondled her vagina during an intrusive pat-down at the Dallas/Fort Worth International Airport.
An indoctrinating TSA video for kids designed to teach how to blindly obey authority navigate airport security makes no mention that children can be subjected to special screening, although it does note children under the age of 12 aren't required to take off their shoes.
Perhaps if Baldwin had been more vocal about his protest of the TSA's over-the-top security measures beforehand he wouldn't have had this problem.
For instance, engineer and blogger Jon Corbett – the first American to file a lawsuit challenging the constitutionality of the TSA's groping and body scanners – was recently surprised to learn he was awarded "TSA Pre✓" status, an official security exemption apparently being implemented randomly for "trusted travelers."
However, he says he never asked, applied or opted-in to be a pre-check member.
"That's right — the guy who sues, publicly humiliates, and fights the TSA before Congress now has TSA PreCheck," Corbett recently wrote on his blog.
(H/T: Twitchy)