Infowars
CNN's Piers Morgan wasted little time exploiting the shooting at the Lone Star Community College in Houston, Texas.
He mounted Twitter and launched into his now infamous brand of histrionics.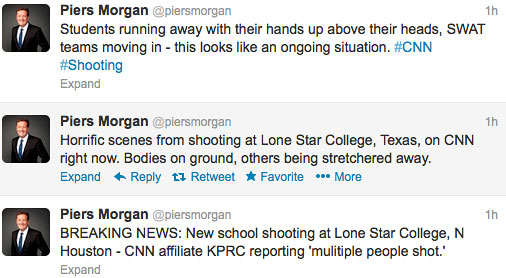 CNN had earlier refrained from showing footage of the campus because of what we might see. It later showed a standard helicopter camera view of the campus.
Although he was correct about a stretcher being wheeled to a waiting ambulance, there was no footage we saw of bodies.
We can expect Morgan to exploit the situation to its fullest even if it turns out to be a gang-banger related incident (as opposed to a much more palatable and sensationalistic "active shooter" situation favored by anti-Second Amendment zealots).