Creators say AeroMobil's Flying Roadster 3.0 could become regular mode of transport for commuters
With its sportscar cockpit and dragonfly wings that fold in neatly behind the cabin, it looks like something straight out of the Batcave or Q's secret laboratory. But the creators of AeroMobil's Flying Roadster insist their innovation is more than just a boy's toy dreamt up by science fiction fans. The time of the flying car, they announced at Wednesday's unveiling of their most advanced prototype, has come.
Speaking at Pioneers festival, a two-day entrepreneurship and digital technology conference in Vienna, AeroMobil's chief designer, Stefan Klein, and CEO, Juraj Vaculik, said their innovation could "change personal transport on a global scale". Their flying car, Vaculik said, could eventually become a regular mode of transport for commuters and middle-distance travellers, especially in countries with underdeveloped road infrastructure.
The Flying Roadster 3.0 prototype has a top groundspeed of 124mph and a flight travel range of 430 miles or up to four hours – enough to reach Aberdeen from London.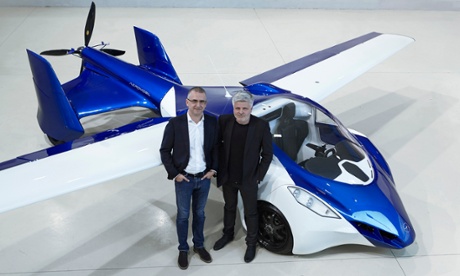 The length of a luxury saloon car, the vehicle can be parked in regular parking slots and fuelled at normal petrol stations – though once in gliding flight mode it is more energy-efficient than road cars.
AeroMobil admitted the vehicle was unlikely to live up to the flying car's ultimate sci-fi promise. With at least a 50m strip of land required for landing and 200m for take-off, even flying cars can get stuck in traffic. A vertical take-off, even if physically possible, would instantly use up half the fuel.
But Klein insisted that his invention did not require an airport or even a concrete runway. In spite of the car's low centre of gravity, he said, the Flying Roadster could land on stretches of lawn or even farmland.
If scepticism about AeroMobil's vision persists, it is partly because the flying car has been part of visions of the future for so long that it almost feels retro. A first patent was registered in 1903, and Waldo Waterman's "aerobile" went on its maiden flight in 1937. In 1940, Henry Ford prophesied that "a combination of airplane and motorcar is coming. You may smile, but it will come".
Rapid advances in modern technology and relaxation of regulations in the sport aeroplane aviation industry have recently given the idea a new lease of life. US company Terrafugia has had a flying prototype of a "roadable plane" for five years, yet the wait has continued. Terrafugia CEO, Carl Dietrich, told the Guardian that it would be "probably another two to three years" until there was a controlled launch, with a ballpark price tag of $279,000 (£172,000). AeroMobil, likewise, remain vague on when the car will be production-ready.
The European version of the flying car does have an added emotional value. Former sculptor Klein started experimenting with his father on a prototype in their garage in communist Czechoslovakia more than 25 years ago – an undertaking which, as he later found out, had been monitored by the state intelligence service.
In 2010, he teamed up with entrepreneur Vaculik, a former theatre director and student leader in Czecheslovakia's Velvet Revolution, in order to find ways to commercialise the concept. The current prototype was built over ten months, with a team of 12 people, including Klein's 20-year-old son.
The dream of overcoming borders, said Klein, had always motivated his work on the vehicle: "In the Czechoslovakia, we got very good training as pilots, but we didn't have the freedom to go anywhere. Nowadays I can use an app to check in my flight on the way to the airfield and I'm in Croatia in ten minutes. For me the freedom to move is really in the DNA of this project."
The dream of door-to-door travel by flying car, he said, also hinged on Europe sticking to the principle of free movement. The reintroduction of border checks in the Schengen area would route all inter-state flights via airports.
In the long term, Europe's first flying car may have a better chance of success outside Europe. While building roads remains expensive and air is still free, countries with less developed infrastructure but less tightly regulated airspace, such as Africa, China or Russia, are more likely to take a punt.