Family fears he will not survive
Adan Salazar
The family of a high school student fears he will not survive injuries sustained last Wednesday after school resource officers Tazed him, the family's attorney has stated.
17-year-old Noe Nino de Rivera is in critical condition at St. David's Medical Center in Bastrop, Texas, after he was alleged to have interfered with two sheriff's deputies working as resource officers, who were attempting to break up a fight between two female students.
The Cedar Creek High School student fell and hit the front of his head when one of the officers, Randy McMillan, used a Taser to subdue him. He sustained a traumatic brain injury, one of the worst his family's attorney, Adam Loewy, says he's witnessed in his legal career.
"This is one of the worst traumatic brain injuries we have seen and we will be pursuing all legal remedies at the proper time," Loewy told KXAN.
He told the Austin American Statesman that if de Rivera "does recover, or survive, he will absolutely not be the same person. It's just a terrible, terrible tragedy."
A spokeswoman for the sheriff's department says the Cedar Creek High School student moved aggressively, did not respond to orders and "looked as though he was ready to fight."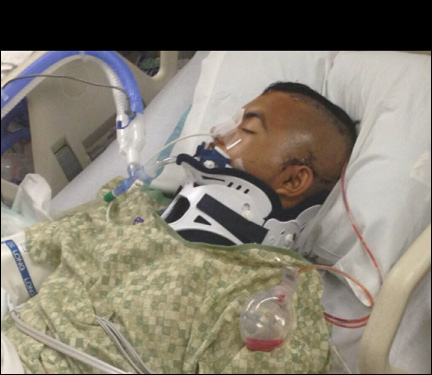 Noe Nino de Rivera in ICU with brain damage / image via Twitter.
Several students, however, say de Rivera did nothing to deserve being Tased, and Lowey says he has video evidence to this effect.
"I do not believe for a second that he was being aggressive," Loewy stated, pointing to cell phone footage he says proves de Rivera was not the aggressor. "This officer was way out of control."
"There were two young ladies fighting and he stepped in to break up the fight," Loewy explained to KXAN. "What the evidence shows, he was sort of backing up from the fight, the fight was over, and this officer literally walked up on him and Tased him."
The sheriff's spokeswoman says they also have video of the incident, and it proves officers were in the right. "He's being aggressive. He is not complying with any of the verbal orders," Bastrop County Sheriff's spokeswoman Sissy Jones told MyFoxAustin. "One of the officers puts his hand on de Rivera's chest and says, you need to back up and that's when de Rivera hits the officer's hand."
"Totally false, a complete lie," Loewy says. "You see the back of the officers come up and you see Noe facing them and then you see the taser go."
Students at the high school staged a walk-out Friday morning, in which they chanted "Justice for Noe" and carried signs reading "#PrayForNoe," and protested the use of Tazers in schools.
According to Jones, Rivera could face charges of interference with public duties, resisting arrest, search or transport, and assault should he survive his injuries.
"Those charges are a joke," Loewy told Fox news, adding, "and I really hope they try to indict a kid who's in a coma."
An independent investigation by the district attorney has been launched, in addition to an internal investigation over the incident. Loewy is also calling for a Texas Ranger and federal government investigation of the case.
Officer McMillan remains on duty, though he's been transferred to a different department.