Technology to cover range of 7,000 Kms, Pakistan, to increase its defensive capabilities, has started preparing intercontinental missile with a range of 7000 kilometres.
According to sources, the intercontinental missile has a range of 7000 kilometres and is capable of hitting its target falling within its range. The missile can contain nuclear as well as traditional warheads. The missile has been termed a significant milestone for the defence of the country and is believed to strengthen the defence. According to sources, the missile would soon be test fired.
PAF to get airborne refullers next year: Pakistan Air Force plans to induct four Chinese airborne refullers next year, in a move to counter the Indian Air Forces' enhanced capabilities after New Delhi acquired six similar aircraft, an Indian news agency quoted the PAF chief as saying.
Air Chief Marshal Qamar Suleman underlined that the airborne refullers were necessary to match the IAF capabilities.
"This is an absolutely new capability which we are inducting. We never had this capability in the PAF," Suleman added, maintaining, in order to match the IAF's acquisition of the first of three Airborne Warning and Control Systems (AWACS), the PAF would receive four Chinese systems between 2011 and 2012.
He also termed as "alarming" the IAF's intention of purchasing 126 medium multi-role combat aircraft, saying Pakistan needed "to have something matching.
Relevant – Must See:
Cold Start: Indian Threat to Pakistan & China
India war deployment details: Pakistan has no choice but to fight
India's Cold Start Strategy: Limited Strikes Against Targets vs Hot War Leading To Nuclear Armageddon
Analysis: Nuclear Armageddon in South Asia'
Conflict Between Pakistan and India: Realizing RAND's Plan for World War Three
Geo-Strategic Chessboard: War Between India and China?
Will Globalists Trigger Yet Another World War?
Full Disclosure: Gog & Magog, 2012 and the Significance of Pakistan
Alert: India Preparing for Nuclear War?
By Zaheerul Hassan
Reliable sources stated that Pakistani authorities have decided to move her forces from Western to Eastern border. The move of forces would start soon. The decision has been taken after receiving the threat from Indian Army Chief General Deepak Kapoor to strike Pakistan on November 22, 2009. Indian Chief warned that a limited war under a nuclear overhang is still very much a reality at least in the Indian sub-continent. On November 23, 2009 Pakistan Foreign Office Spokes man Abdul Basit asked the world community to take notice of remarks passed by the Indian Army Chief. He also said that India has set the stage and trying to impose a limited war on Pakistan. There are reports that Indian intelligence agencies have made a plan to hit some Indian nuke installation, alleging and then striking Pakistan. It is also added here that India has started purchasing lethal weapons. According to the careful survey a poor Asian country (India) has spent trillions on purchasing of Naval, Air force and nuke equipments.
Thus, Indian preparation simply dictates that she is preparing for nuke war. The Kashmir conflicts, water issue, borer dispute between China and India, American presence in Afghanistan, Maoist movements, Indian state terrorism, cold war between India and regional countries would be contributing factors towards Next third world war.
Indian Chief's statement by design came a day earlier to Manmohan Singh visit to USA. The purpose of threatening Pakistan could also be justifying future Indian attack on Pakistan. Therefore, Islamabad concern is serious in nature since any Indian misadventure will put the regional peace into stake and would lead both the country towards nuclear conflict. Islamabad probably conveyed her ally (USA) regarding danger of limited war against Pakistan; she has to cease her efforts on western border for repulsing Indian aggression on eastern border. In fact, Indian government and her army chief made a deliberate try to sabotage global war against terror. In this connection Pakistan Army Spokesman Major General Athar Abbas time and again said that India is involved in militancy against Pakistan and her consulates located in Afghanistan are being used as launching pad.
It is worth mentioning here that Pakistan has deployed more than 100,000 troops on the border with Afghanistan and is fighting a bloody war against terrorism. Her security forces are busy in elimination of foreign sponsored militancy. Thousand of soldiers have scarified their lives not only for the motherland but to bring safety to the world in general. Pakistan is a key ally in the war on terror and the threat of withdrawal would alarm the USA as it could seriously hamper NATO troops fighting in Afghanistan. Pakistan is a nuclear power too and is able to handle any type of Indian belligerence.
In this context, earlier Pakistan Army Chief of Staff General Ashfaq Parvez Kayani has categorically expressed at number of occasions that Indian attack would be responded in full strength while using all types of resources. On November 25, 2009 General Kayani stated that the nation would emerge as victorious in the on-going war against extremism. While addressing a ceremony at Police Lines he paid rich tributes to the Frontier police for their valuable sacrifices in the war against terrorism. At this occasion General Kayani revealed that Pakistan was founded in the name of Islam by our forefathers and each one of us should work for strengthening the country and should made commitment towards achieving the goal of turning the country into a true Islamic state. He also announced Rs.20 million for the Frontier Police Shuhada Fund.
In response to Indian Army Chief' statement he also put across the message that the protection and solidarity of the country are our main objectives as our coming generation owes this debt to us and resolved that any threat to the sovereignty and integrity of the country would not be tolerated. The General made it clear that Pak Army has the capability and the capacity to fight the war against terrorists and adversary too. He praised the sacrifices rendered by the security forces and high morale of the troops. Lt General Masood Aslam, Commander 11 Corps, IGFC Major General Tariq and IGP NWFP Malik Neveed Khan were also present at this historic moment.
Pakistan Army Chief visits of western border reflect his commitment to root out the foreign sponsored militancy from the area. This rooting out is directly helping global war on terror, whereas on the other hand his counter part (Indian Chief) keep on yelling and dreaming of striking Pakistan. He probably has forgotten that Pakistan is a responsible nuke power and capable to defend and strike. In 2001 and 2008 at the occasions of attacks on parliament and Mumbai, both the nations close to a nuke war, this was averted by interference from the world community India and USA. At that time too security officials have also told NATO and USA that they will not leave a single troop on the western border incase of Indian threat.
How Indian Nuclear Assets Danger To The World
Alert: Indian Army Ready For War Against China And Pakistan Simultaneously
India is preparing for a possible `two-front war' with China and Pakistan, Indian newspaper saying Wednesday.
The newspaper said the Indian Army is now revising its five-year-old doctrine to effectively meet the challenges of war with China and Pakistan, deal with asymmetric and fourth-generation warfare, enhance strategic reach and joint operations with IAF and Navy. 
Work on the new war doctrine — to reflect the reconfiguration of threat perceptions and security challenges — is already underway under the aegis of Shimla-based Army Training Command, headed by Lt-General A S Lamba, sources told the Indian newspaper.
It comes in the backdrop of the 1.13-million strong Army having practiced — through several wargames over the last five years — its `pro-active' war strategy to mobilise fast and strike hard to pulverize the enemy.
This `cold start strategy', under a NBC (nuclear-chemical-biological) overhang, emerged from the `harsh lessons' learnt during Operation Parakram, where it took Army's strike formations almost a month to mobilise at the `border launch pads' after the December 2001 terrorist attack on Parliament.
This gave ample opportunity to Pakistan to shore up its defences as well as adequate time to the international community, primarily the US, to intervene. The lack of clear directives from the then NDA government only made matters worse.
"A major leap in our approach to conduct of operations (since then) has been the successful firming-up of the cold start strategy (to be able to go to war promptly)," said Army chief General Deepak Kapoor, at a closed-door seminar on Tuesday.
The plan now is to launch self-contained and highly-mobile `battle groups', with Russian-origin T-90S tanks and upgraded T-72 M1 tanks at their core, adequately backed by air cover and artillery fire assaults, for rapid thrusts into enemy territory within 96 hours.
Gen Kapoor identified five thrust areas that will drive the new doctrine. One, even as the armed forces prepare for their primary task of conventional wars, they must also factor in the eventuality of `a two-front war' breaking out.
In tune with this, after acquiring a greater offensive punch along the entire western front with Pakistan by the creation of a new South-Western Army Command in 2005, India is now taking steps — albeit belatedly — to strategically counter the stark military asymmetry with China in the eastern sector. There is now "a proportionate focus towards the western and north-eastern fronts", said Gen Kapoor.
Two, the Army needs to `optimise' its capability to effectively counter `both military and non-military facets' of asymmetric and sub-conventional threats like WMD terrorism, cyber warfare, electronic warfare and information warfare.
Three, the armed forces have to substantially enhance their strategic reach and out-of-area capabilities to protect India's geo-political interests stretching from Persian Gulf to Malacca Strait.
"This would enable us to protect our island territories; as also give assistance to the littoral states in the Indian Ocean Region," said Gen Kapoor.
Four, interdependence and operational synergy among Army, Navy and IAF must become the essence of strategic planning and execution in future wars. "For this, joint operations, strategic and space-based capability, ballistic missile defence and amphibious, air-borne and air-land operations must be addressed comprehensively," he said.
And five, India must strive to achieve a technological edge over its adversaries. "Harnessing and exploitation of technology also includes integration of network centricity, decision-support systems, information warfare and electronic warfare into our operational plans," he added.
Apart from analysing the evolving military strategy and doctrines of China and Pakistan, the Army is also studying the lessons learnt from the US-launched Operation Enduring Freedom in Afghanistan in 2001 and Operation Iraqi Freedom in 2003 and their relevance to India. PD Agencies

INDIA-PAKISTAN NUCLEAR EXCHANGE ESCALATES TO WORLD NUCLEAR WAR
A rogue Indian general strikes China which massively retaliates. Russian communications knocked out by electromagnetic pulses hit Europe and China with limited number of missiles. U.S. retaliates against Russia and attacks China to destroy its nuclear stocks. Russia retaliates against the U.S. and hits U.S. ally Israel. Israel initiates revenge attacks against Arab and Muslim capitols.
Read more here: Escalation Scenarios: The Third World War and Its Aftermath
Relevant – Must See:
Full Disclosure: Gog & Magog, 2012 and the Significance of Pakistan
Will Globalists Trigger Yet Another World War?
Cold Start: Indian Threat to Pakistan & China
India war deployment details: Pakistan has no choice but to fight
India's Cold Start Strategy: Limited Strikes Against Targets vs Hot War Leading To Nuclear Armageddon
Analysis: Nuclear Armageddon in South Asia'
Conflict Between Pakistan and India: Realizing RAND's Plan for World War Three
Geo-Strategic Chessboard: War Between India and China?
Tough Pak Army Warns Proponents Of 'Adventurism'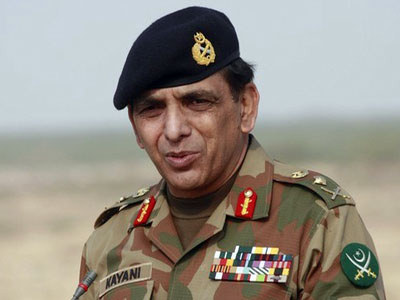 Pakistan can fire missiles at only 10 minutes' notice on all Indian cities: General. Kayani

The Chief of Army Staff, Gen Ashfaq Parvez Kayani, said on Friday that peace and stability in South Asia (and beyond) was the logical and fundamental principle underlining the security paradigm of Pakistan.  Addressing senior offi
cers at the General Headquarters here, Gen Kayani said that the army was alive to the full spectrum of threat that continued to exist both in conventional and unconventional domains.
He said that Pakistan Army stood committed and prepared to respond to any existing, potential or emerging threat. An army supported by 170 million people, with faith in Allah, is a formidable force to be reckoned with.   "Proponents of conventional application of military forces, in a nuclear overhang, are chartering an adventurous and dangerous path, the consequences of which could be both unintended and uncontrollable," he said.
He said Pakistan was not oblivious to the unprecedented acquisition of sophisticated military hardware, synergised with an offensive military doctrine.
However, as a responsible nuclear state, Pakistan army would contribute to strategic stability and strategic restraint as per the stated policy of the government.
He said peace and stability in South Asia was the logical and fundamental principle underlining the security calculus of Pakistan.  The recent statement by Indian Army Chief Gen Kapoor about the two-front war strategy on which India was at present working, targeting China and Pakistan, had sent shock-waves among those aspiring for peace and stability in the region.
Commenting on Gen Kayani's observation, a defense analyst observed that India had to be reminded from time to time that Pakistan was a nuclear power, fully capable of deterring any external aggression.
He pointed out that Pakistan could fire missiles at only 10 minutes' notice on all Indian cities.
Pakistan is the fourth country in the world possessing cruise missiles which are considered to be capable of accurately hitting targets in India.
The maximum range of Indian missiles is 1500 kilometers while Pakistan's Shaheen has a range of 3500 kilometers.
'Indian Army Can't Deal With Pakistan, Let Alone China': Gen Majid
ISLAMABAD: Chairman Joint Chief of Staff Committee General Tariq Majid on Saturday rubbished the Indian media report which states that the Indian Armed Forces are preparing to fight China and Pakistan.
"Leave alone China, General Deepak Kapoor knows very well what the Indian Armed Forces can not and what the Pakistan Armed Forces can pull off militarily," said General Tariq Majid.
He was responding to a question on the Indian Army Chief's jingoistic pronouncement of Indian military preparations to fight China and Pakistan simultaneously.
General Majid said he doubted the veracity of the Indian media report attributed to General Kapoor, saying that "he (Kapoor) could not be so outlandish in strategic postulations to fix India on a self destruct mechanism."
General Majid further said that if the news report is correct, then the statements of Indian Army Chief are uncalled for and only "display a lack of strategic acumen."
[youtube=http://www.youtube.com/watch?v=GOlp_e95l8k]
[youtube=http://www.youtube.com/watch?v=IpX58kNu_l0]
Obama's War On Yemen: Another Last Day Prediction Coming True?
Will Globalists Trigger Yet Another World War?
The Intelligence Trap – You're Next!
Cold Start: Indian Threat to Pakistan & China
Pakistan's Plutonium based Tritium H-Bombs deter Indian aggression
India war deployment details: Pakistan has no choice but to fight
India's Cold Start Strategy: Limited Strikes Against Targets vs Hot War Leading To Nuclear Armageddon
Analysis: Nuclear Armageddon in South Asia'
[youtube=http://www.youtube.com/watch?v=Z1CsaOgfDbU&feature=player_embedded]
[youtube=http://www.youtube.com/watch?v=OadulKgwEV0&feature=player_embedded]
East meets West Pakistan's fighter Aircraft
defpro.com |
Not many modern armed forces unite in their inventory, and particularly among their key assets, technology from two – in political terms – entirely opposite origins. It is more common in the countries of the former Soviet bloc where, since the fall of the iron curtain, Western technology slowly but ever increasingly found its way into countries primarily equipped with Russian weapon systems. In the past two decades the Middle East and southern countries of the Asian continent have become areas in which Western state-of-the-art weapon systems competed next to weapon systems from Russia or other former antagonists to lead these countries' armed forces into a new age – globalisation in the political and industrial defence world.
These countries – not only geographically in between history's current major players – slowly revolve the old political and economic structures in a natural process and, with their growing political self-confidence, create a new link between the cumbersome super powers which, mostly from behind the scenes, will shape the next decades.
Pakistan is one of these interesting examples, however, with a very unique character. Just as its neighbour and long-lasting political antagonist, India, it develops an increasingly emancipated character in its choice of new weapon systems as well as in its desire to further develop its domestic R&D as well as production capabilities. India currently is in the process of extensive trials for its future fighter aircraft programme (MMRCA) in which aircraft from the US compete against European as well as Russian solutions of the latest generations (see http://www.defpro.com/daily/details/380/). The final choice in this particular race will be a forward-looking one for the face of the Indian Air Force.
On the other side of the Thar Desert, the Pakistani Air Force (PAF) brings together an interesting mix of aircraft from all over the world and, in particular, from the US and China. Due to its historical development, the first aircraft to be used by the Pakistani Air Force were US- and UK-built aircraft. However, in 1965 Pakistan received its first fighter aircraft of Chinese origin: the Shenyang J-6. Since, fighter aircraft of the US as well as from France (the PAF still strongly relies on its French Dassault Mirage IIIs and Mirage Vs) have been operating next to Chinese fighter aircraft. A clear political development can be deduced from the history of fighter aircraft of the PAF: from the post-colonial influences to a regional power at the mercy of the political gravities to a growing national identity and self-determination.
Today, Pakistan is expecting to take delivery of its first of 18 ordered Lockheed Martin F-16C/D Block 52+ very soon (older versions of the F-16 have already been operating in Pakistan since 1982), bringing the total number of Pakistani F-16s to 54 when the last aircraft will be delivered as scheduled in December 2010. Furthermore, as various press sources have reported mid-November 2009, Pakistan has signed an agreement with China for the procurement of 36 Chengdu FC-20 (J-10 export version) to be delivered by 2015. Finally, Pakistan is also in the process of introducing a growing number of FC-1/JF-17 fighter aircraft, jointly developed by China's Chengdu and the Pakistan Aeronautical Complex (PAC) Kamra. With the first two small batch production aircraft having been delivered in 2007, Pakistan has since received a good dozen of these aircraft and, as reports Flight International, is expecting to introduce at least 150 domestically produced fighters into service (the number has increased to an estimated 200-250 aircraft).
This development would not only provide Pakistan with a significant number of state-of-the-art air combat assets but also brings together technology from the Far East and the West in an interesting unity. Many eyes of these two political and industrial camps will be glued to the PAF to gather information on this process and the other's craftsmanship.
F-16 … FC-20 … JF-17
As outlined above the PAF has been combining Western and Chinese aircraft since the 1960s, including bombers and trainer aircraft and is, furthermore, expecting to receive four Chinese Shaanxi Y-8W airborne early warning & control (AEW&C) aircraft equipped with AESA radar by 2011 that will be operating next to Pakistan's brand-new Saab 2000 Erieye AEW&C aircraft. But let's take a look at the three state-of-the-art fighter aircraft that will be racing Pakistan's skies in the near future.
Pakistan's newest member of the F-16 family, a two seat F-16D Block 52, has been unveiled on October 2009 at Lockheed Martin's Fort Worth, Texas, facility. The ceremony was attended by the PAF Chief of the Air Staff, Air Chief Marshal Rao Quamar Suleman. The current order, dubbed "Peace Drive I", is for 12 F-16Cs and six F-16Ds, powered by the Pratt & Whitney F100-PW-229 engine, with an option for another 18 aircraft.
"The Pakistani and U.S. leadership has worked very hard to develop a strategic partnership between the two countries in order to achieve our common strategic interests," said Rao Qamar. "If this relationship is to succeed, it has to be built on a solid foundation of trust between the two allies. This F-16 is not just an aircraft, but a capability for Pakistan. It is a symbol of trust and the relationship between Pakistan and the U.S."
As the PAF explains on its homepage, "the PAF had originally planned its force structure to include than a hundred F-16s by the end of the century, but these plans could not be implemented because of the US embargo [of the 1990s due to Pakistan's testing of a nuclear bomb]. The service is, thus, currently in the process of evaluating other high-tech fighter aircraft for procurement."
The outcome of this process is quite clear: a stronger co-operation with China which obviously offers Pakistan not only to possibility to acquire new combat aircraft but also of jointly improving its domestic industrial capabilities. The Chengdu FC-20s to enter service in 2015 will replace the aging fleet of combat aircraft such as the Chinese F-7s (a version of the MiG-21 which has been recently upgraded) as well as the extensive fleet of Mirage IIIs and Vs. As the PAF explains, "Chinese systems such as the F-7s provide the staying power to absorb losses and to take punishment in the face of a much bigger adversary. Planned upgrades to equip these less capable fighters with modern radars, better missiles and ECM equipment will help enhance the PAF's combat capability."
The FC-20 is not among these less capable fighters. It is the export version, modified to Pakistan's requirements, of one of China's most capable multi-role fighter aircraft with a delta-wing and canard design. It was introduced into the People's Liberation Army Air Force (PLAAF) in 2005 and in April 2006 the Pakistani cabinet approved the procurement of 36 of these aircraft which can be compared to the aircraft generation of the F-16, the Gripen or the Rafale.
Although a greater challenge for the Pakistani Air Force than the mere purchase of new assets, the development and introduction of the JF-17 (Pakistani designation for "Joint Fighter") has continuously and obviously successfully proceeded. The first aircraft of this type took to the skies in 2003. The first small batch of pre-production aircraft was delivered to Pakistan for operational evaluation purposes in March 2007. The first Pakistani-manufactured JF-17 was rolled out and handed over to the PAF on 23 November 2009. On the occasion of the hand-over ceremony Rao Qamar said that 40 JF-17 would be produced by PAC Kamra within next three years and would be inducted in PAF replacing the existing aircraft. Furthermore, he confirmed that the first JF 17 Squadron would be established shortly. The JF-17 is a lightweight and low-cost multi-role fighter aircraft with a high manoeuvrability and beyond visual range (BVR) capability. It has advanced aerodynamics configuration and high thrust.
Must See: