Kit Daniels
Radiation leaks from nuclear plant "renewed interest" in iodide, agency said in 2012
A federal bid notice reveals that a Pentagon agency began stockpiling potassium iodide in 2012 due to its concerns over the Fukushima nuclear crisis, shedding light on why the Dept. of Health and Human Services is now ordering 14 million doses of iodide.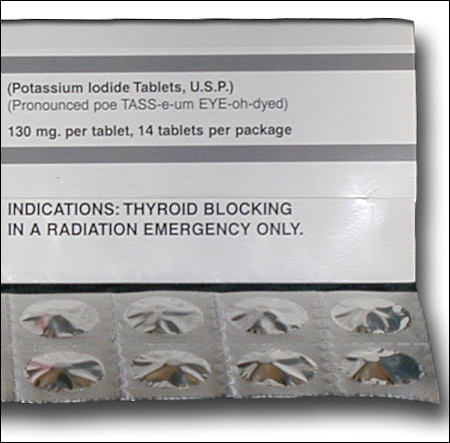 "The recent earthquake in Japan in March of 2011 and the resultant nuclear crisis has renewed interest in" potassium iodide, the Defense Logistics Agency said in a solicitation.
The Defense Logistics Agency posted a solicitation on FedBizOpps in 2012 asking contractors for 75,000 packages of potassium iodide tablets because the "recent earthquake in Japan in March of 2011 and the resultant nuclear crisis has renewed interest in this item."
"The U.S. Army Medical Materiel Agency has submitted a MILSTRIP (Military Standard Requisitioning and Issue Procedures) for this item to ensure that critical operational forces are protected in the event of nuclear fallout," the solicitation added.
Potassium iodide keeps radioactive iodine from being absorbed by the thyroid gland and therefore it is commonly taken in the event of a severe nuclear emergency, such as the current Fukushima crisis.
As Paul Joseph Watson reported on Jan. 1, HHS ordered an unprecedented 14 million doses of potassium iodide for delivery next month.
A government source later told Anthony Gucciardi that this purchase is bizarre given the massive amount requested on such a short notice.
Although HHS did not list a reason for its order, the DLA's open admission reveals that it is highly likely that the health department is also stocking up on potassium iodide due to Fukushima.
But why would HHS wait until now?
Because several oceanographers concluded last August that the radioactive plume from the Fukushima disaster will reach the U.S. coast early this year.
Additionally, another major earthquake hitting the already delicate nuclear plant could force tens of millions to evacuate Japan.
Yet unlike the Pentagon agency, the health department has been silent on its preparation for such a crisis.
When Gucciardi called the procurement office for HHS about the iodide purchase, the representative denied that HHS was stockpiling potassium iodide for any particular reason.
"Do you have any concerns about Fukushima?" Gucciardi asked.
"I have no idea about any of that… there's no hidden agenda here," the representative responded.
But given the DLA's open proclamation that it is in fact stockpiling potassium iodide because of the radiation leaks from Fukushima, it appears that the health representative's denial is as weak as the duct tape repair work made to the crippled nuclear plant.