An "urgent" report issued today to the General Staff from the highly secretive Deputy Defense Minister General Pavel Popov is warning that war can be expected to erupt between the Pacific Powers of the United States, Peoples Republic of China and the State of Japan "within weeks" due to a power struggle currently "exploding" within the Communist Party of China (CPC).
According to this report, the recent decision by Chinese leader Xi Jinping to prosecute retired security tsar Zhou Yongkang's son Zhou Bin for corruption is the "leading impetus" that has lead to a fracturing of loyalties in the People's Liberation Army (PLA) between those advocating immediate strikes against Japan and those cautioning a more strategic and diplomatic course of action in a number of territorial disputes between these two nations.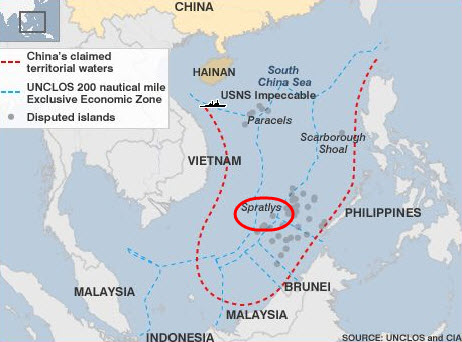 Zhou Yongkang [photo top left with Xi Jinping], this report says, is a retired senior leader of the CPC and "no small fish" from the province of Sichuan where he was once the top official and headed the "petroleum mafia," the once-impregnable fortresses of the big state-owned oil giants, which have deep military connections; and ruled the state security establishment under former Chinese leader Hu Jintao.
Since assuming power in November 2012, this report continues, President Xi Jinping began a largely secret war against Zhou Yongkang, but which broke into the open last year with the prosecution of Yongkang's protégé and Central Politburo Member Bo Xilai who was sentenced to life imprisonment last September (2013) for corruption.
Because of President Xi Jinping's fears of Zhou Yongkang, Russian military analysts in this report state, this past week he promoted as the new commander of the strategically important Beijing Garrison General Pan Liangshi, a veteran military commander with expertise in anti-terror maneuvers, and yet another move to consolidate his grip of the armed forces.
General Popov, however, in his report warns the General Staff that President Xi Jinping's moves against Zhou Yongkang, and for his consolidation of control over the PLA, are "too little and too late" as Chinese military forces still loyal to the former Security Minister are even now planning "deliberate and provocative" actions against Japan and threatening military force against the Philippines in order to start a Pacific War they believe will unseat the President Xi Jinping.

One such provocative action against the United States by PLA forces loyal to Zhou Yongkang cited by General Popov in this report lists a 5 December 2013 confrontation in the South China Sea between Chinese and US naval warships that nearly led to conflict and which President Xi Jinping was unaware of until protests against China were lodged by the US State Department.
Even worse, this report says, was the warning issued to Japan earlier today by PLA factions loyal to Zhou Yongkang that a "firm response" could be expected if Japan attacks Chinese ships, should Tokyo decide to take provocative action on the Senkaku Islands issue.
As Japanese military drills and deployments into the South China Sea area increase, General Popov further notes in his report, the stern words issued by Japanese Defense Minister Itsunori Onodera (who was overseeing the drills, and who vowed to protect the territory around the islands, which Japan considers to be its own) yesterday should not go unheeded, and who said:
"We can never overlook China's repeated entries into our territorial waters. In addition to diplomatic efforts, we will cooperate with the Coast Guard to securely defend our territory and waters around the Senkaku islands."
Even though China requires large food imports from the US, Brazil, Argentina and Australia to feed its growing middle class and urbanized elite, this report says, nevertheless a Chinese-Japanese war could break out over matters Westerners deem inconsequential.
And, according to this report, it would be a coalition war, and it could be big, bad, and long. The US-Japan alliance might appear solid in the early going, obscuring subterranean fractures within the alliance. Yet transpacific unity might dissipate should the struggle wear on and American resolve flag — exposing these fissures, all matters worth clarifying, General Popov warns, in allied circles now, "before things turn ugly."
With China saying to America that they're so serious about this conflict that they're prepared to take the risks of being provocative in order to persuade the Obama regime to take seriously that they want to change the current order, but with no one truly knowing who speaks for the PLA, this report warns that even though the United States military remains the world's most fearsome fighting force, unbeatable on a one-on-one basis, it could very well find itself in a protracted war that could end in nuclear Armageddon.
China is keenly aware of that fact too, this report concludes, so rather than orienting itself towards a total war it cannot win, China's military strategy serves a smaller, but shrewder purpose — pushing the United States out of China's backyard, a move that matches both President Xi Jinping's and Zhou Yongkang's goals too, no matter who wins out in this power struggle.