Duplicity designed to get foreign regimes to lower their guard
Kurt Nimmo
Infowars
On Sunday, Secretary of State John Kerry compared Bashar al-Assad to Adolph Hitler.
Kerry said the Syrian leader "now joins a list of Adolf Hitler and Saddam Hussein who've used these weapons in a time of war," a reference to the as of yet unproven accusation that the government of Syria used chemical weapons on its own people. Despite a lack of evidence, Kerry insists "the case gets stronger by the day" for a military attack aimed at al-Assad and his regime.
Kerry twisted historical fact to fit the Obama administration's pre-war rhetoric. Hitler and the Nazi Army didn't use chemical weapons in battle during the Second World War. In fact, Hitler was a victim of a chemical weapon attack. He was gassed at the Ypres Salient in 1918 during the First World War. Hitler was temporarily blinded by a British mustard gas shell. Winston Churchill and the British were great admirers of chemical weapons. "I do not understand this squeamishness about the use of gas," Churchill wrote in 1919 as then colonial secretary. "I am strongly in favor of using poisoned gas against uncivilized tribes" in British occupied Iraq.
It is true Saddam Hussein used chemicals weapons. The Reagan administration and the U.S. Department Commerce made sure Iraq received all the biological and chemical weapons it required. Phillips Petroleum, Unilever, Alcolac, Allied Signal, the American Type Culture Collection, and Teledyne sold the materials with the blessing of the United States government. I wrote about this in late 2002 as the Bush administration ran its Iraq weapons of mass destruction scam as a pretext to invade the country, an endeavor that eventually killed more than a million Iraqis (piled atop more than a million previously killed under sanctions) and that ultimately resulted in the execution of the CIA dupe Saddam Hussein.
Now we learn that the CIA helped Saddam Hussein attack Iran with chemical weapons in the 1980s during the Iran-Iraq war. 20,000 Iranian troops were killed by mustard gas and nerve agents including sarin and 100,000 were wounded.
John Kerry apparently prefers to dine with characters he now disingenuously compares to Saddam and Hitler. In 2009, as a member of a peace delegation sent to Syria, then Massachusetts Senator John Kerry and his wife, Teresa Heinz, dined with the Assads at the Naranj restaurant in Damascus.
Following the visit, the AFP reported:
"President Barack Obama's administration considers Syria a key player in Washington's efforts to revive the stalled Middle East peace process, US Senator John Kerry said in Damascus on Thursday. 'Syria is an essential player in bringing peace and stability to the region,' Kerry, chairman of the Senate Foreign Relations Committee, said in a speech after meeting President Bashar al-Assad. 'Both the United States and Syria have a very deep interest… in having a very frank exchange on any differences (and) agreements that we have about the possibilities of peace in this region,' he said in the statement."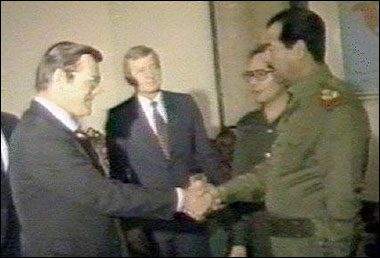 Video capture of Donald Rumsfeld shaking hands with Saddam Hussein.
The Kerry meeting is reminiscent of Donald Rumsfeld's visit to Baghdad in December of 1983. Rumsfeld was dispatched to establish "direct contact between an envoy of President Reagan and President Saddam Hussein," while emphasizing "his close relationship" with the president. Rumsfeld declared the Reagan administration's "willingness to do more" regarding the Iran-Iraq war, but "made clear that our efforts to assist were inhibited by certain things that made it difficult for us, citing the use of chemical weapons, possible escalation in the Gulf, and human rights." A duplicitous remark, at best, considering the CIA's behavior mentioned above.
Rumsfeld would later, as Secretary of Defense, work with George W. Bush to invade Iraq and make sure Saddam Hussein went to the gallows.
Now the globalists are running the same trick in Syria. Over the course of several years, Syria – like Iraq before it – has gone from "a key player in Washington's efforts to revive the stalled Middle East peace process" to a rogue nation ruled by a Hitler-like character who mercilessly gasses his own people.
This is hardly unusual – as Saddam Hussein's fate revealed, the U.S. government routinely turns former friends into Hitleresque enemies for the sake of geopolitical expediency. Kerry's dinner with Bashar is merely another bizarre sideshow in an ongoing drama that will result in organized mass murder and the untold suffering of millions of innocents – like a few million Libyans last year – after Obama finally unleashes the dogs of war and the hounds "famine, sword and fire" in Syria.
The photos below demonstrate more government duplicity: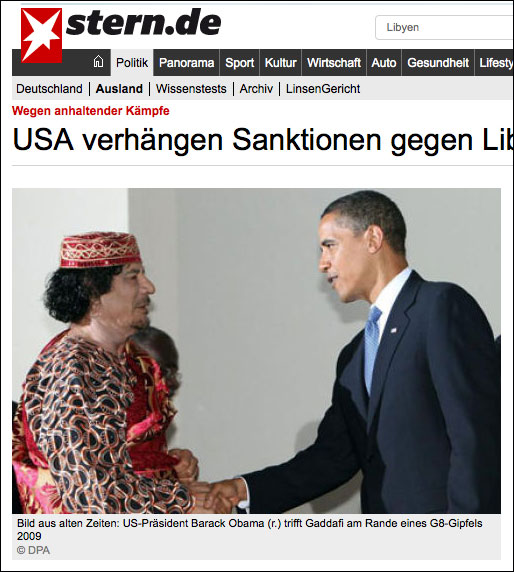 Obama meets Muammar Gaddafi a couple years before he had the Libyan leader murdered Mafia style.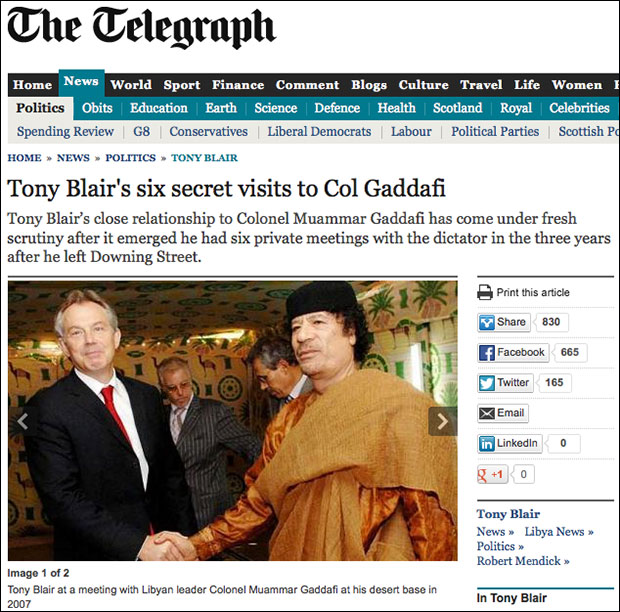 Former British Prime Minister Blair was flown to Libya twice at Gaddafi's expense before the Libyan leader was murdered.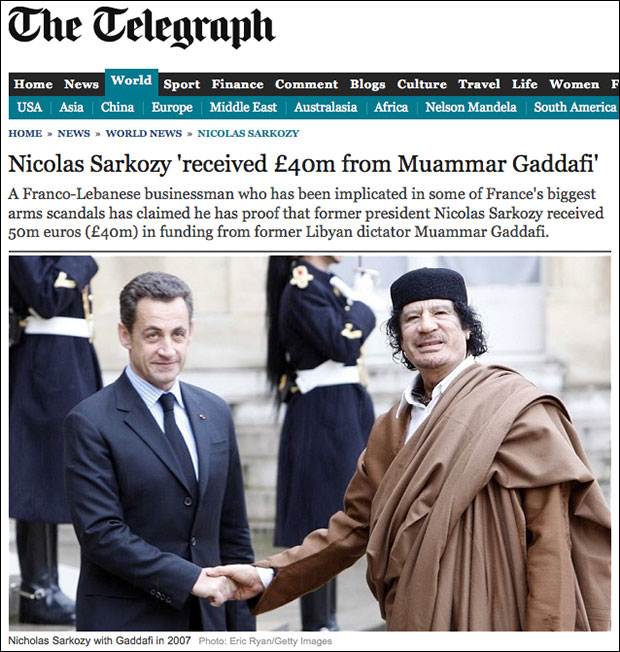 Gaddafi funded French president Sarkozy's campaign before France joined effort to invade Libya and kill Sarkozy's benefactor.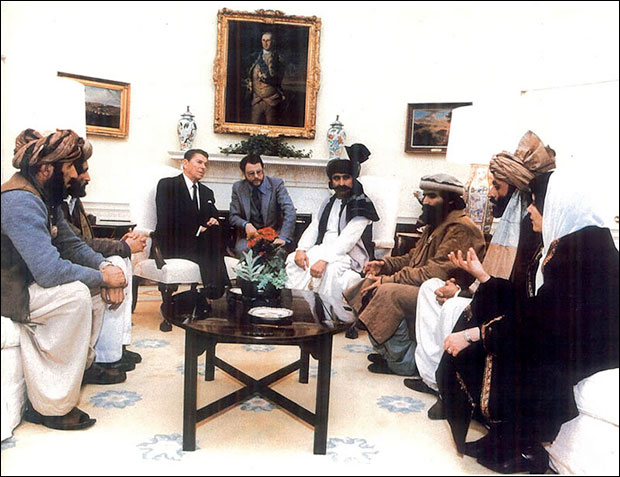 President Ronald Reagan met with the Taliban in 1983. He compared them to America's founding fathers.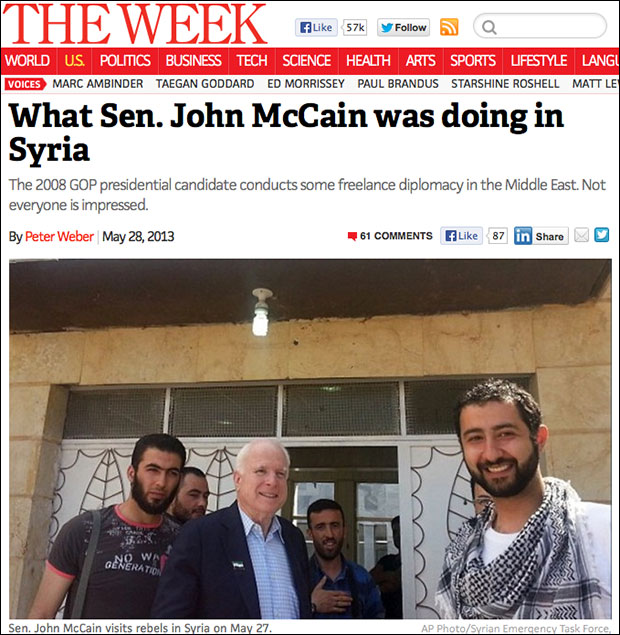 Senator John McCain meets with the CIA's Syrian terrorists.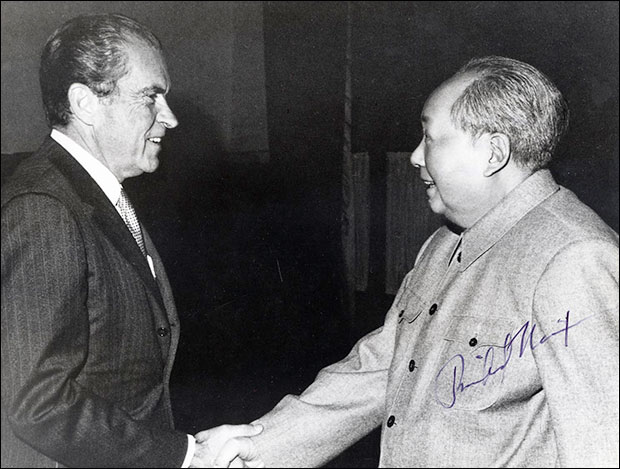 President Nixon meets the world's most notorious mass murderer, China's Chairman Mao.