The Raptr hovers stubbornly at an altitude of about 100 feet despite a lashing Oklahoma wind, its 73-inch rotor blades whirring like a swarm of buzzing bees. Then handler Curtis Sprague disconnects the remote device that he is using to control the mini-helicopter, leaving the pilotless aircraft to move entirely under its own steam – a flying robot let loose in the clear blue sky. The unmanned plane does a pirouette, then flies back to the spot from which it was launched. It lowers itself slowly to the runway, landing with a slight shudder before switching itself off.
Equipped with a military-grade autopilot that can make up to 500 flight corrections per second even as it carries out fully-autonomous surveillance of an area with a 10-mile radius, the Raptr is one of a new generation of drones now poised to burst onto the civilian scene. The helicopter's ability to transmit real-time video and thermal imaging over a wide area has already attracted interest from as far afield as South Africa, where game keepers want to use it to thwart rhino poachers. (Drones are also being eyed as a means of carrying snake antivenom to the Australian outback.)
In the US, a diverse group of interests have their eyes on the technology – fire fighters combatting wild fires, police departments tracking fugitives, farmers on the watch for diseased or parched crops, TV crews filming breaking news.
Public debate about drones continues to be dominated by the controversy around the Obama administration's ongoing policy of targetted killings. Attention has focused on the weaponised aircraft, such as the Global Hawk and the Predator, that have been deployed in Afghanistan, Pakistan, Yemen and other conflict spots.
But all that is about to change. Though Amazon CEO Jeff Bezos' boast on 60 Minutes that one day his company will drop packages on its customers' doorsteps using unmanned "octocopters" was more than a little futuristic, given the hurdles to flying drones in densely populated urban areas, it's likely only a matter of time before drones really do make their entry into civilian life.
A 'road map' for drones
Indeed, the Federal Aviation Authority is about to make a giant leap towards unleashing drones into American skies. The FAA has promised to announce by the end of the month the six states that it has chosen as the hosts of the official drone test sites that within a couple of years will provide a "road map" to drone participation in civilian life, including the integration of larger, high-altitude, unmanned aircraft into the air traffic control system.
Small drones (defined as those lighter than 55lbs) could be allowed to begin commercial operations in the US as early as 2015, according to aviation experts. Larger unmanned vehicles designed for use in heavier tasks such as crop spraying and cargo delivery are expected to follow suit by around 2020.
Already, a burgeoning sector of aerospace firms is actively developing civilian UAVs (unmanned aerial vehicles) in preparation for FAA approval. Some of the drones are small enough to put in your pocket; some are powered by the Sun. Their potential uses range from crowd control and law enforcement to predicting tornadoes and surveying livestock on cattle ranches. One, the snappily-named Dehogaflier, is designed to lead hunters towards feral pigs.
"In 10 years everyone will be familiar with UAVs, they will be routine," said James Grimsley, the CEO of Design Intelligence Corporation, a tech company that is developing a solar-powered drone called the Eturnas. "As they get cheaper and smaller, they will be used more and more, until they become ordinary."
Oklahoma is one of 24 states bidding to host one of the six FAA test sites. The stakes are high: the Oklahoma department of commerce estimates that if the state is awarded one of the contracts it stands to create 2,000 jobs and generate $200m a year in economic activity as well as $20m in state tax revenues. Overall, the Teal Group has suggested that drones could be doing $100bn of business across the country by 2025.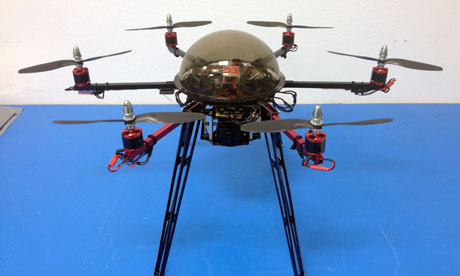 The state has emphasised Oklahoma's strong military, business and academic traditions in its bid for one of the test sites. Since 2011, Oklahoma State University in Stillwater has been home to the country's – and probably the world's – first post-graduate programme in drones.
OSU students have built about 25 prototype UAVs over the past four years, including the Talos, a light-weight plane with a 16-foot wingspan built on a commission from the Department of Homeland Security, which wanted the university to develop a craft with qualities that would make it fit for surveillance of people entering the country illegally over the Mexican border. The students working on the Talos are using a sound-proofed room known as an anechoic chamber to test the drone, which the DHS has specified must fly so quietly that it can avoid being detected by its targets even when it is operating at low altitudes.
Thomas Hays, 28, a PHD student involved with the Talos program, said he had decided to work on drones because "UAVs are the frontier of modern aviation. All we are waiting for is the FAA to tell us we can now fly these planes and we will be ready."
Before they get to that point, however, Oklahoma's budding drone activists know that they must overcome public suspicion of the technology – including the aircraft's reputation as a killing machine. "People see UAVs as machines of war – when they hear the word 'drone' they think of a Predator with Hellfire missiles," said Grimsley, who has played a central role in the FAA bid as president of the Unmanned Systems Alliance of Oklahoma.
A powerful surveillance tool
UAV pioneers (they avoid using the term "drone") also know they have an uphill battle on the issue of privacy. Opinion polls suggest that more than a third of Americans fear their privacy will be eroded through aerial surveillance of their personal space. Several states have imposed restrictions on the technology – Texas, for example, has prohibited individuals from using UAVs to take pictures of private property from the air, but given police departments and even real estate companies permission to use the devices. Deer Trail, a small town in Colorado, has gone one further and debated issuing licences to residents to allow them to hunt and shoot down drones flown by the federal government over the town's airspace. (There are no such drones yet in existence, but that didn't stop Deer Trail.)
Dr Stephen McKeever, Oklahoma's secretary of science and technology, said that it is important for people to enter the debate "with open eyes and minds. The right way to have a conversation about this issue is to look at the benefits as well as possible abuses. The technology itself is neutral – it's people who abuse it."
Drone proponents argue that the vehicles are no different from manned aircraft in terms of their ability to snoop on citizens. A passenger of a light plane like a Cessna can capture high-resolution photographs of private property that are just as detailed and intrusive as any images streamed from a drone – and besides, they say, existing laws should cover both manned and unmanned planes.
But the Oklahoma branch of the American Civil Liberties Union disagrees. "That's a naive view," said Ryan Kiesel, executive director of ACLU Oklahoma. "Drones are different – they are very quiet and can remain stationery in the sky for long periods of time," he said, arguing that such capabilities make them powerful surveillance tools unlike anything we've yet seen.
Kiesel added that reaping the benefits of domestic drones and protecting the privacy of individuals should not be seen as mutually exclusive. "One way to overcome public resistance to drones, and to make full use of the economic opportunities they represent, is to reassure people that their privacy will be respected."
Part of that, Kiesel added, was to ensure that local police departments – which have been among the early adopters of domestic drones – will have to secure warrants before carrying out surveillance.
Police in Arlington, Texas, have used the vehicles to fly over a co-operative known as the "Garden of Eden" to look for drugs. They were also given one-off permission by the FAA to use the UAV to stake out an apartment complex in which a shooting suspect was barricaded.
Tactical Electronics, the private security firm that is distributing the Raptr, has participated in tests on behalf of the Department of Homeland Security in which small drones equipped with sensors are pitted against possible public safety scenarios, from a search for a family lost in the woods to the detection of criminals hiding out in an urban setting. These "Robotic Aircraft for Public Safety" (RAPS) tests are being staged at Fort Sill in southern Oklahoma in 208 acres of restricted military airspace.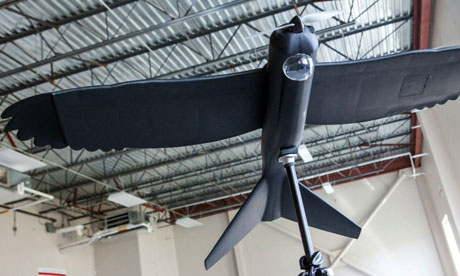 Over the past year the Raptr has been put through its paces in a corner of the RAPS site, where an apartment block dubbed "Freedom City" has been simulated out of stacked shipping containers about the size of townhouses. The mini-helicopter was flown alongside the containers and its thermal imaging and other sensors used to track human movement inside. Tactical Electronics said the craft performed well, though independent assessment of its performance is not available.
Curtis Sprague, the Raptr's handler – he controls the helicopter from the ground using a remote control box from the ground – worked as a SWAT officer with Oklahoma police for 10 years. He said he is confident that once the public realises the value of the technology, it will come onboard. "All it needs is one little girl to be found using a UAV, and it will change everything," Sprague said. "Right now all they can think of is the theatre of war. After a little exposure the outcry about privacy will subside."
From feral pigs to emergency responders
The most heated arguments are likely to concern drones in American towns and cities. But in practice, supporters say, the technology is most likely to be applied in large open spaces where the aircraft can fly freely.
That includes agriculture – a $37bn a year industry in Oklahoma. High-resolution cameras can survey up to 3,600 acres a day, down to the level of an individual clump of grass, from a long-endurance unmanned aircraft. That allows farmers to keep an eye out for early outbreaks of disease, shift cattle more efficiently between areas of heavy and light grazing – and look out for those pesky feral pigs.
Staffers at the National Weather Center in Norman, Oklahoma, a federal complex that tracks extreme weather across the US, are also eager to embrace the devices. Meteorologists are particularly interested in gathering data from the lower atmosphere – from ground level up to about 2km above the Earth – which is where most of the moisture that fuels thunderstorms is concentrated. Drones are in development that will fly in a helix through that zone in the hope that the information collected will allow scientists to predict when a supercell storm will turn into a tornado. That in turn could enhance early warning systems and save lives, particularly in the tornado alley that passes through Oklahoma. In May, an EF5 tornado – the most powerful on the scale – ripped through the town of Moore, killing 23 people.
Emergency responders, too, are waiting impatiently for the FAA to give drones the green light. Jon Hansen was assistant chief of the Oklahoma City fire department at the time of the 1995 bombing of the Alfred P Murrah federal building that killed 168 people.
"We were outgunned and outmatched that day," Hansen said. "People died in the debris and we didn't know they were even there. What if we could have put a UAV in there, located the folks and got to them a little quicker? In today's times, this is something we just have to have.