Susan Duclos
Videographer MrBB333 takes a look at the action over at Latest Worldwide Meteor/Meteorite News who is being slammed with reports from people that aren't just spotting meteors/fireballs but are reporting seeing multiple meteors/fireballs at the same time, as they issue a worldwide large meteor outbreak alert!
Some of the reports say the witnesses were "scared" as they came streaking straight down, they are bright and they are big. One described as the size of a house according to MrBB333 in the video below.
Another report described one of these large space rocks as "bright as the moon" and it came straight down.
Yet another witness claims to have seen "4 at one time."
The same type of reports are also being seen by The American Meteor Society, that link too will be listed below the video.
The links to the original sources he shows will be listed below the video.
Note- These warnings have come from multiple sources in previous days that this was going to happen, and now it is here.
Via the video details:
http://lunarmeteoritehunters.blogspot… (Alert)
http://neo.jpl.nasa.gov/ca/
http://www.amsmeteors.org/
The map shown below only represents the last 25 shown, so it is constantly changing with new reports.
.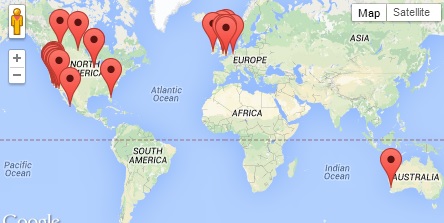 Add To The Conversation Using Facebook Comments