UN's World Meteorological Organisation says recent extremes of heat, cold and rain are almost certainly interlinked
There have been heatwaves in Slovenia and Australia, snow in Vietnam and the return of the polar vortex to North America. Britain has had its wettest winter in 250 years but temperatures in parts of Russia and the Arctic have been 10C above normal. Meanwhile, the southern hemisphere has had the warmest start to a year ever recorded, with millions of people sweltering in Brazilian and southern African cities.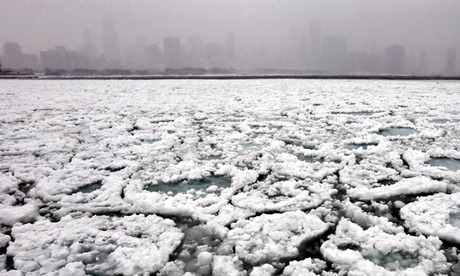 The Chicago skyline and a freezing Lake Michigan. North America has experienced an 'endless winter' of snow and ice. Photograph: Nam Y. Huh/AP
According to the UN's World Meteorological Organisation (WMO), which monitors global weather, the first six weeks of 2014 have seen an unusual number of extremes of heat, cold and rain – not just in a few regions as might be expected in any winter, but right the way around the world at the same time, with costly disruptions to transport, power systems and food production.
"Melbourne, Adelaide and Canberra have all had record heatwaves, while temperatures in Moscow were 11C above normal. Germany and Spain were 2C above normal for January and this month has seen so far six major depressions develop over the Atlantic," said the WMO in its latest assessment of world weather.
"Both equatorial and polar regions have experienced extremes. There has been unusually heavy snowfall; in the southern Alps, monthly temperatures were extremely high; from eastern Mongolia to eastern China and in the southern hemisphere, Australia, Argentina and Brazil have experienced extended heatwaves. The unusually cold weather in the eastern US coincided with severe storms in Europe," it says.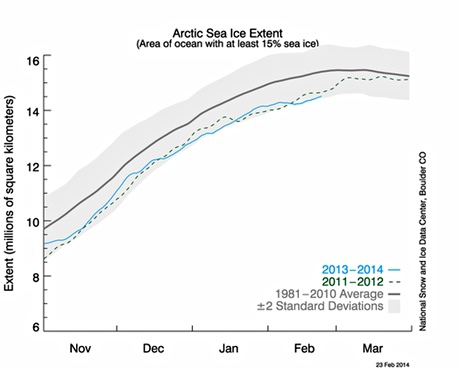 Arctic sea ice extent. Photograph: NSIDC
Some climate scientists argue that there is nothing unusual in winter global temperature extremes but Omar Baddour, chief of the WMO data division, says the recent phenomena are almost certainly interlinked, with new computer models suggesting increased evidence of climate change.
"We need more time to assess whether this is unusual [on a global level] but if you look at the events in individual regions, like the heatwave in Australia or the cold in the US, it looks very unusual indeed. Next month we will publish a major report showing the likelihood of extreme heatwaves is increased 500% [with climate change]."
There is no connection between northern and southern hemisphere phenomenon, says Baddour, but the intense cold and heatwaves in the northern hemisphere appear to be linked by "planetary waves", or giant meanders in high-altitude winds like jet streams.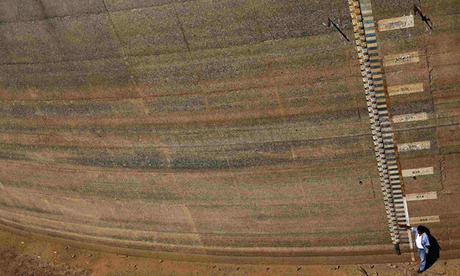 A worker stands next to water markers at Jaguary dam in Braganca Paulista. This has been the hottest January on record in parts of Brazil. Photograph: Nacho Doce/Reuters
"A low pressure in one part of the world may be linked to a high in another. The two hemispheres are divided by the equator and not connected but, from a global perspective, climate change affects both. The global cause [of the extremes] can be the same," he said.
The WMO assessment coincides with exceptionally warm air and water this month in the Arctic. The sea ice, that forms and melts each year, would normally be still growing strongly in mid-February, but has dramatically slowed in the last two weeks and now covers 14.36 million square miles – the lowest extent ever recorded in February.
"The Arctic is pretty warm everywhere. If I look at temperature anomalies, there's a huge anomaly over the Barents Sea and Sea of Okhotsk of about 10C (above normal) compared to 1981-2010," said Julienne Stroeve, a senior scientist at the US National Snow and Ice Data Centre at Boulder, Colorado.
"We are living in a time where the climate is changing quite rapidly. There is reason to expect that the changes in the sea ice will have large local effects. Further investigation will improve our knowledge of whether or not the effects of sea ice decline and broader changes in the Arctic have global effects," said leading US meteorologist Jeff Masters.
The first two months of 2014 appear to back up last year's UN Intergovernmental Panel on Climate Change report report, which stated that the number, frequency and intensity of hot days and heatwaves was increasing, along with an increase in the intensity and number of heavy rainfall events.
Bob Ward, policy and communications director at the Grantham Research Institute at the London School of Economics, said the science linking weather extremes to climate change was becoming clearer.
"We are seeing the extremes move into new territory. The pattern of extreme weather events that we have seen across the globe over the past 12 months bears the unmistakable fingerprint of climate change, with high temperatures recorded in many parts of the world," he said.
"We are also seeing some unusual phenomenon, such as the polar vortex in North America, that is bringing unusually cold weather, which would not be automatically be considered to be due to climate change. However, there is some evidence that such unexpected surprises are also due to global warming."
But some scientists are cautious about linking extremes to climate change. "Looking for a signal of climate change in short-term weather does not make much scientific sense … There is however evidence for increasing heatwaves and in some measures, increasing precipitation," said Roger Pielke Jr, professor of environmental studies of the Centre for Science and Technology Policy Research at the University of Colorado.
"Human-caused climate change is real, poses risks and we should take action in terms of both mitigation and adaptation. [But] extreme events are a bad place to look for climate signals."