Things are not quite as simple as they seem to be in politics. Senator Menendez has been accused of inappropriately accepting gifts in exchange for "niceties". A Justice Department probe, headed by Eric Holder, himself, will likely result in Federal corruption charges against Menendez which revolves around his relationship with Florida ophthalmologist Salomon Melgen.
According to the US government watchdog Center for Responsive Politics, Melgen contributed $700,000 to Menendez's 2012 US Senate race through an intermediary campaign funding channel. The senator also allegedly received gifts and multiple trips on Melgen's private jet and some of these gifts are alleged to include the services of prostitutes.
The Menendez Transgression Doesn't Even Move the Corruption Needle
I guess the American people can sit back and thank the Justice Department for being so diligent in upholding our laws and the "high expectations" we have for our elected officials. I could barely write these words without choking. When it comes to Congress, what Menendez is accused of doing is the metaphorical equivalent of you and me getting a parking ticket.
Give Menendez a Parking Ticket and Send Him On His Way
Please allow me to briefly digress to demonstrate what a minor offense Menendez has committed in comparison to what really goes on in the Senate.
When it comes to Senator Menendez, Holder is killing flies with a sledge hammer.
If Obama and Holder wanted to protect the American people from corruption in the Senate, Senator Dianne Feinstein would already be in prison. For example, in 2009, Senator Dianne Feinstein introduced legislation which directed $25 billion in "taxpayer money to a government agency that had just awarded her husband's real estate firm a lucrative contract to sell foreclosed properties at compensation rates" higher than the industry standards. Without being a member of the Senate Banking Committee, Feinstein curiously stepped outside of her bounds and offered to help the FDIC obtain money in its efforts to meet the increasing demand of compensation related to the rising level of home foreclosures.
Feinstein's offer was delivered only a few days before the agency determined that CB Richard Ellis Group (CBRE), the commercial real estate firm that Feinstein's husband Richard Blum leads as the undisputed board chairman, had just won the competitive bidding contest for a highly coveted federal contract to sell foreclosed properties that the FDIC would have inherited from a growing list of failed banks.  Incredulously, the couple had the audacity to claim that they didn't even know about CBRE's business relationship with FDIC until after it was awarded, despite the fact the Blum was the Board Chairman.
The Washington Times notes that only a few days after consummating the contract with the FDIC, "CBRE raised $207 million through a stock offering that sold for $3.77 a share. Mr. Blum's investment partnerships bought 10.6 million shares at the market price of $3.77. The stock offering was announced a couple of days before the signing of the FDIC contract." This is called insider trading and Diane Feinstein and her husband, Richard Blum, are guilty of the offense.
ISN'T THIS A LOT WORSE THAN WHAT SENATOR MENENDEZ IS ACCUSED OF DOING? WHERE'S ERIC HOLDER AND THE LONG ARM OF THE JUSTICE DEPARTMENT?
Feinstein was also a member of the Military Construction Veterans Affairs and Related Agencies Subcommittee (MILCON) from 2001 to 2005. During her tenure, Feinstein voted for appropriations worth billions of dollars to her husband's firms URS Corp. and Perini Corp.
Both Perini's and URS' majority shareholder is, again, Feinstein's husband, Richard Blum. It is estimated that Perini now holds at least $2.5 billion worth of contracts tied to the imperialist expansion of the United States military's policy of endless war. Blum's largest Department of Defense contracts are "indefinite delivery-indefinite quantity" or "bundled" contracts. Incredibly, you and I are on the hook for guaranteeing profit margins for Feinstein's husband's company. In May 2006, Perini held a series of bundled contracts awarded by the Army Corps of Engineers for work in the Middle East worth $1.73 billion. Perini has also been awarded an open-ended contract by the Air Force for military construction and environment quality control at closed military bases.
Feinstein's personal wealth accumulation since becoming a senator has grown to nearly $200 million. Feinstein has never held a job outside of public service. I am having trouble understanding how can a public servant accumulate a fortune of this magnitude.
AGAIN, ISN'T THIS A LOT WORSE THAN WHAT SENATOR MENENDEZ IS ACCUSED OF DOING? AND AGAIN I ASK, WHERE'S ERIC HOLDER AND THE LONG ARM OF THE JUSTICE DEPARTMENT? WHY IS SENATOR MENENDEZ BEING PERSECUTED FOR SUCH A MINISCULE OFFENSE WHEN A BLATANT CRIMINAL, SUCH AS SENATOR FEINSTEIN AND HER HUSBAND ARE RUNNING FREE STEALING FROM THE PEOPLE OF THE UNITED STATES COURTESY OF FEINSTEIN'S INSIDER DEALS?
Why Menendez and Not Feinstein?
Getting Menendez out of the Senate is about allowing Obama's treasonous plan to allow Iran to develop nuclear weapons.
The Justice Department does not care about Senatorial influence peddling and prostitutes. They care about aiding and abetting the treasonous regime known as the Obama administration.
Even the mainstream media is scratching its head. The US News and World Report had this to say about President Obama and his Iran policy:
"The CIA had drawn up a plan to equip Syrian rebels in Jordan and provide assistance once they were back in Syria. Obama stopped it – not because he'd gone soft on Bashar Assad. It was because he was still soft on Iran, Assad's main benefactor. Subsequently Obama opened a secret bilateral channel to Mahmoud Ahmadinejad's regime, according to Mosaic's Michael Doran. Major concessions were offered on sanctions and permitting the Iranians to continue enriching uranium to levels of 5 percent. Six U.N. Security Council resolutions had ordered Iran to cease all enrichment and reprocessing. Iran demanded the right to enrich. In effect, Obama was prepared to end the economic sanctions on Iran entirely and allow the Iranians to enrich uranium in perpetuity".
Obama is also allowing Iran, with impunity, to place 10,000 troops within 10 miles of the Israeli border. "Obama is allowing Iran to potentially do to Israel in 12 minutes, what it took Hitler 12 years to do".
Israel Will Be Forced to Attack Iran
If the P5+1 talks in Geneva produce a bad deal, one that will allow Iran to move forward with their obvious plans to build nuclear weapons, Israel will feel compelled to strike at Iran. When Israel strikes at Iran, by treaty, Russia will attack Israel, presumably with nuclear weapons. In the following video, Netanyahu implores Secretary of State John Kerry to not sign a bad agreement, in Geneva, which will result in Iran becoming a nuclear power.
Does it now make sense why Obama snubs Netanyahu at every opportunity?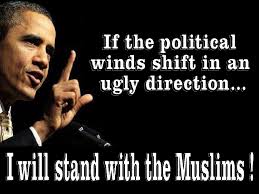 Obama is being accused on multiple fronts of engaging in soft negotiations with Iran and is further being accused of having secretly lifted the sanctions on Iran. These actions will result in Iran becoming a nuclear power. Obama's actions toward Iran are treasonous and clearly betrays the national security interests of the United States. Obama's treason towards the country that elected him President is so brazen, that he had the temerity to state that "I will stand with the Muslims should the political winds shift in an ugly direction" (page 261 in his book Audacity of Hope).
Obama stands with Iran, in support of Russian policy. Obama has allowed Russian soldiers to train on our soil at a time when Putin has threatened to nuke the United States.
Sen. Menendez Refuses to Commit Treason
Senator Menendez may have the personal morals and ethics of a proverbial alley cat, however, this Senator is refusing to commit treason against the United States unlike the head of his Democratic party. Obama's heinous actions have led Menendez to break ranks with other Democrats and Obama and join Republicans in attempting to prevent Iran from obtaining nuclear weapons. And when Senator Menendez decided to influence peddle, he opened the door for Obama's Justice Department to go after him for his failure to support abject treason.
If Menendez is forced to resign his Senate seat, according to New Jersey law, US Senate seats open over 70 days before the next election will be filled when they occur. In this case, in November 2016 unless a special election is called, this will allow Obama the time to keep stalling in the Geneva talks to allow Iran to move forward with their plan to build nuclear weapons.
Stunningly, Menendez and rival Republican Senator Mark Kirk introduced the Nuclear Weapons Free Iran Act of 2015. This has been made necessary because Iran is preventing IAEA investigators from inspecting the full extent of Iran's nuclear program. The position of Kirk and Menendez is that a nuclear Iran pushes the world into WW III because Iran will attack Israel if they obtain nuclear weapons. Their joint legislation authorizes tougher sanctions against Iran if the P5+1 talks fail to achieve a satisfactory and final agreement that prevents Iran from obtaining nuclear weapons. The legislation also includes unqualified support for Israel, if Israel feels compelled to initiate military action in legitimate self-defense against a nuclear threat from Iran.
With Menendez out of the way, courtesy of the Justice Department, this bill, or one like it, will not pass because the highly influential Menendez will not be in position to convince fellow Democrats to jump off of Obama's treasonous ship.
As a prominent Democrat, Menendez has twice spit in Obama's face because there is new legislative language that calls for dismantling Iran's "illicit nuclear infrastructure" while demanding on-site and short-notice inspections from the IAEA. This comes as a result of the late February anti-Iranian legislation introduced by Menendez. Again, Menendez is siding with the Republicans. Republican Senator Bob Corker, and other senators from both parties want to require Obama to give Congress 60 days to vote up or down on any P5+1 deal reached. This would effectively keep Obama from further betraying the national security interests of the United States and also would prevent exposing Israel to grave harm from a nuclear Iran. These provisions would further give the Israeli Lobby power to sabotage Obama's administration with regard to our Iranian policy.
Menendez is certainly no hero, but at least he is not a traitor to his country.
Conclusion
Presently, the Menendez threat to Obama has been neutered and he is fighting for his political life. The prosecution of Menendez is a political hit. At least he is still alive, which is more than I can say for the millions that will die if Obama's actions result in WW III.