Michael Snyder
According to shocking new numbers that were just released by the Bureau of Labor Statistics, 20 percent of American families do not have a single person that is working.  So when someone tries to tell you that the unemployment rate in the United States is about 7 percent, you should just laugh.  One-fifth of the families in the entire country do not have a single member with a job.  That is absolutely astonishing.  How can a family survive if nobody is making any money?  Well, the answer to that question is actually quite easy.  There is a reason why government dependence has reached epidemic levels in the United States.  Without enough jobs, tens of millions of additional Americans have been forced to reach out to the government for help.  At this point, if you can believe it, the number of Americans getting money or benefits from the federal government each month exceeds the number of full-time workers in the private sector by more than 60 million.
When I was growing up, it seemed like anyone that was willing to work hard could find a good paying job.  But now that has all changed.  At this point, 20 percent of all the families in the entire country do not have a single member that has a job.  That includes fathers, mothers and children.  The following is how CNSNews.com broke down the numbers…
A family, as defined by the BLS, is a group of two or more people who live together and who are related by birth, adoption or marriage. In 2013, there were 80,445,000 families in the United States and in 16,127,000—or 20 percent–no one had a job.
To be honest, these really are Great Depression-type numbers.  But over the years "unemployment" has been redefined so many times that it doesn't mean the same thing that it once did.  The government tells us that the official unemployment rate is about 7 percent, but that number is almost meaningless at this point.
A number that I find much more useful is the employment-population ratio.  According to the employment-population ratio, the percentage of working age Americans that actually have a job has been below 59 percent for more than four years in a row…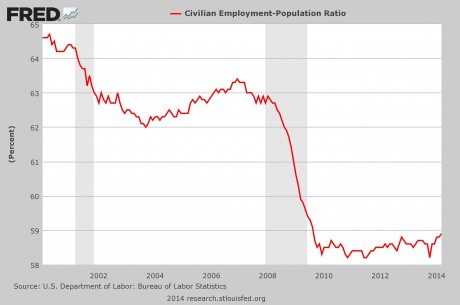 That means that more than 41 percent of all working age Americans do not have a job.
When people can't take care of themselves, it becomes necessary for the government to take care of them.  And what we have seen in recent years is government dependence soar to unprecedented levels.  In fact, welfare spending and entitlement payments now make up 69 percent of the entire federal budget.  For much more on this, please see my previous article entitled "18 Stats That Prove That Government Dependence Has Reached Epidemic Levels".
And what is even more frightening is that more families are falling out of the middle class every single day.  As a recent CNN article explained, approximately one-third of all U.S. households are living "hand-to-mouth".  In other words, they are constantly living on the edge of financial disaster…
About one-third of American households live "hand-to-mouth," meaning that they spend all their paychecks. But what surprised the study authors is that 66% of these families are middle class, with a median income of $41,000. While they don't have liquid assets, such as savings accounts or mutual fund holdings, they do have homes and retirement accounts, with a median net worth of $41,000.

"We don't expect them to be living paycheck to paycheck," said Greg Kaplan, study co-author and assistant professor of economics at Princeton University.
The American Dream is rapidly becoming an American nightmare.
When I was growing up, I lived in a pretty typical middle class neighborhood.  Everyone had a nice home, a couple of cars and could go on vacation during the summer.  I don't remember ever hearing of anyone using food stamps or going to a food bank.  In fact, I can't even remember anyone having a parent that was unemployed.  If someone did leave a job, it was usually quite easy to find another one.
But today, the middle class is being ripped to shreds and according to one new report there are 49 million Americans that are dealing with food insecurity in 2014.
How can anyone not see what is happening to us?  America is in the midst of a long-term economic decline, but the mainstream media and most of our politicians seem to think that things are better than ever.  They continue to try to convince us that "business as usual" is the right path to take.
But one-fifth of the families in the entire nation are already totally unemployed.
At what point will we finally admit that what we are doing right now is simply not working?
30 percent of all families unemployed?
40 percent?
50 percent?
If we stay on the road that we are on now, things are going to continue to get worse.  Millions more jobs will be shipped overseas, millions more jobs will be replaced by technology and crippling government regulations will kill millions more jobs.  The middle class will continue to shrink and government dependence will continue to rise.
Most people just want to work hard, put food on the table, pay their mortgages and provide a nice life for their families.
But the percentage of Americans that are successfully able to do that just keeps getting smaller.
Wake up America.
Your middle class is dying.
Add To The Conversation Using Facebook Comments