Nafeez Mosaddeq Ahmed
The U.S. Department of Defense (DoD) is funding a multimillion dollar university research program to develop new data mining and analysis tools for the U.S. military intelligence community to track political radicalism among British Muslims and other activist groups around the world.
Leading intelligence experts including former National Security Agency (NSA) official Thomas Drake – the whistleblower who inspired Edward Snowden – confirm that the tools are designed to enhance the intelligence community's capabilities to identify potential terrorism suspects that could face a range of sanctions, from surveillance to no-fly injunctions to, at worst, being targeted for extrajudicial assassination via the CIA's "kill lists."
But, they say, inherent flaws in the program are instead likely to facilitate the criminalization of political dissent and the targeting of innocent civilians – and that such trends are increasingly likely to affect not just "hostile theatres" abroad, but even domestic populations in the U.S., Britain and Europe.
One flagship project established at Arizona State University (ASU) since 2009 examines "radical" and "counter-radical" movements in Southeast Asia, West Africa and Western Europe. This month, I obtained exclusive access to some of the online research tools being used by the Pentagon-funded project, disclosing a list of 36 mostly Muslim organizations in the UK targeted for assessment as to their relationship to radicalism.
The project's most significant outputs have involved the creation of sophisticated data-mining tools capable of analyzing thousands of online materials, whether in the form of webpages, tweets or discussion forums. The ASU team, led by anthropologist Prof. Mark Woodward, has designed a range of algorithms and advanced modelling techniques to automatically categorize and rank political or religious organizations or networks, and individuals associated with them, on a "radicalism scale" to measure the degree to which they "threaten" U.S. interests. The project is also capable of identifying and locating individuals and ranking their propensity for terrorism.
Unbeknown to many, Arizona State is officially an NSA-designated university. Its Information Assurance Center (IAC), based in the School of Computing, Informatics and Decision System Engineering – where the programming of data-mining tools for the Pentagon has occurred – is a certified National Center of Excellence in education and research by the NSA and U.S. Department of Homeland Security.
Arizona State's IAC also collaborates with the school's Center for Emergency Management, which provides training for "homeland security professionals" in "government/industry" on "disaster mitigation, preparedness, response, recovery and management."
A Network of Data Gathering
Another parallel project, which recently received funding from the DoD's Minerva Research Initiative, led by Prof. Stephen Kosack of the University of Washington, "seeks to uncover the conditions under which political movements aimed at large-scale political and economic change originate, and what their characteristics and consequences are."
"The main focus of the research is to try to understand when mass movements of average citizens arise and push for social change," Kosack said last week. He said the team has gathered "historical data on populations undergoing mass social change" over the last three years "to create a fingerprint of the population."
This will be extended to "larger and more diverse movements" of more than 1,000 participants, "including demonstrations from much of the Middle East, Taiwan, Ghana, and Brazil," analyzed via 216 social variables.
Kosack acknowledged the direct implications for U.S. defense policy. "Think of the run-up to the Iraq War in 2003," he said. "There was a big debate about how likely Iraq was to produce violent insurgencies. This would be able to give you some more precise historical estimates of the likelihood of the environment of Iraq leading to a violent insurgency."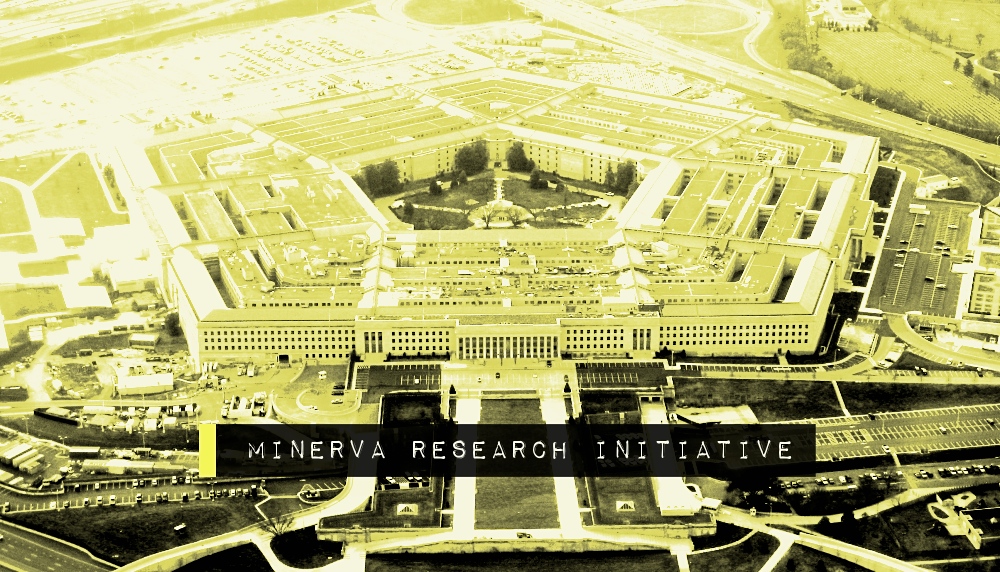 Kosack's research is being overseen by Dr. Lisa Traynor of the Social and Behavioral Sciences Program of the U.S. Army Research Office. Traynor is a contract scientist at Bowhead Systems Management, a leading U.S. defense firm providing services to the Pentagon, Army, Air Force, Navy, Department of Homeland Security and Department of the Interior, among other federal agencies.
Michael Bradshaw, president of Bowman's Systems and Technology Group, previously served as a Pentagon contractor specializing in military war-gaming, simulation, training and software development. Bowman is also one of the leading firms contracted to develop the U.S. military's rapidly emerging Unmanned Autonomous Vehicle (UAV) and Unmanned Autonomous Systems (UAS) technologies.
Such technologies are pitched to transform the 21st century battlefield. A February report by Washington's Center for Strategic and International Studies noted that unmanned systems – otherwise known as drones – played a decisive role in U.S. "war on terror" operations in "Iraq and Afghanistan, a global campaign to disrupt Al Qaeda and its affiliates from Somalia to Pakistan, a contingency operation in Libya, and support to French efforts in Mali."
The report adds: "Unmanned systems will also have new domestic prominence and importance for the United States as they are increasingly adopted for homeland and law enforcement missions."
When Data Mining Leads to Drone Strikes
The link between U.S. drone warfare at home and abroad, and tracking political "radicals," is not trivial. Unmanned systems have increasingly been used to unilaterally target and assassinate alleged terrorism suspects and their associates, including U.S. citizens such as Anwar Awlaki and his son Abdulrahman, based on Pentagon "kill lists" created by U.S. intelligence.
Earlier this year, The Intercept reported on the pivotal role of the NSA's "complex analysis of electronic surveillance, rather than human intelligence, as the primary method to locate targets for lethal drone strikes," often resulting in "deaths of innocent or unidentified people."
NSA whistleblower Thomas Drake, a former senior executive of the agency, confirmed to me that the algorithms being developed by ASU's data-mining projects were similar to algorithms used by U.S. intelligence to identify targets for the CIA's "signature" drone strikes against unidentified groups of terrorism suspects. In the unforgettable words of General Michael Hayden, former NSA and CIA chief: "We kill people based on metadata."
Tracking British Muslims and Anti-War Activists
The University of Washington and Arizona State University projects are both about enhancing the Pentagon's capacity to analyze surveillance data to determine threats from groups and individuals, supplementing analysis of metadata with "open source" material. Unlike Kosack's project, though, the ASU project claims to focus exclusively on Muslim organizations in Asia, Africa and Europe.
Its starting assumption is that the "driving motor" of extremist movements is religion, and therefore that researchers must move "beyond the assumption that counter radical discourse necessarily focuses on politics."
In contrast, according to Emeritus Prof. Riaz Hassan of Flinders University, whose research on the motivations behind terrorism was funded by the Australian government, analysis of data from the most comprehensive terrorism database in the world recognizes that religious extremism is largely motivated by political grievance.
"It is politics more than religious fanaticism that has led terrorists to blow themselves up," Hassan said. "The causes of suicide bombings lie not in individual psychopathology but in broader social conditions. Understanding and knowledge of these conditions is vital for developing appropriate public policies and responses to protect the public."
In the ASU project's latest paper, "Multiscale Modeling of Islamic Organizations in the UK,", which was presented at an academic conference in Washington, D.C., last year, the study's authors describe their development of "a ranking system that utilizes ranked perspectives to map 26 U.K. Islamic organizations on a set of socio-cultural, political and behavioral scales based on their web corpus." In reality, the list of organizations studied included 10 more organizations, some of which were non-Muslim organizations.
Data for the Pentagon-funded research project consisted of a collection of nearly 10,000 documents downloaded from the websites of 36 U.K. organizations that were then ranked on various scales by three independent experts.
The project gathered some of its data via an "expert wisdom gathering tool," a bespoke website for independent experts to grade and scale these organizations. According to the online tool, the organizations rated for their threat-level included largely peaceful civil society organizations such as British Muslims for Secular Democracy, Islamic Relief, Islamic Society of Britain and the Quilliam Foundation, as well as activist pro-Palestinian organizations which have been critical of U.K. government policy, such as the Muslim Public Affairs Committee UK, Cage Prisoners and Interpal.
Despite the claim of focusing on Muslim discourses of extremism, included on the list are non-Muslim organizations oppositional to U.S. and British foreign policies – namely the 32 county sovereignty committee (32CSM), the Irish Republican separatist group often described as the political wing of the Real IRA; and the Socialist Workers Party, which since 2003 has run the U.K.'s leading anti-war network, the Stop The War Coalition (STWC).
STWC's supporting organizations include the Palestine Solidarity Campaign, the National Union of Journalists, the Centre for Nuclear Disarmament, Friends of Al-Aqsa, the Green Party, Military Families Against War, Media Workers Against War, the Kurdish Federation, and Britain's major trade unions, Unison and United.
Also listed for ranking are Islam4UK, the group formerly known as Al-Muhajiroun, and the far right English Defence League. A further group listed is "Christian Choice." No group by that specific name appears to exist, but the designation could be a reference to the Catholic movement campaigning for women's rights on abortion, led in particular by the Washington-based Catholics for Choice which is heavily critical of the Vatican.
The full list of British organizations scaled for their propensity for or against terrorism by this Pentagon-funded data-mining project is as follows:
• iEngage • MPACUK •32 county sovereignty committee •Al-Khoei Foundation •Bradford Council for Mosques •British Muslim Forum •British Muslim Initiative •British Muslims for secular democracy •Cage Prisoners •Christian Choice •European Muslim Research Centre •Federation of Student Islamic Societies Institute for Middle Eastern and Islamic Studies •Interpal •Islam 4 UK •Islam Expo •Islamic Centre of England •Islamic Forum Europe •Islamic Foundation •Islamic Human Rights Commission •Islamic Relief •Islamic Society Britain •Middle East Monitor •Mosques and Imams National Advisory Board •Muslim Aid •Muslim Association of Britain •Muslim Council of Britain •Muslim parliament of Great Britain •Muslims4UK •National Association of Muslim Police •Quilliam Foundation •Radical Middle Way •Socialist Workers Party •Sufi Muslim Council •The Cordoba Foundation •The English Defence League
The "expert wisdom gathering tool" also showed intent to scale or rank organizations in Germany, France, Europe generally, Nigeria, Niger, Senegal, Indonesia, Malaysia, Singapore and the Philippines, although only the UK and Indonesia sections contained active lists of groups.
—————
Dr. Nafeez Ahmed is a bestselling author, international security scholar, investigative journalist and regular Guardian contributor on the geopolitics of interconnected environmental, energy and economic crises. This is the first in a four-part investigation to be published throughout this week.