NTEB
From halos to horns in just under 6 years
"For thou hast said in thine heart, I will ascend into heaven, I will exalt my throne above the stars of God: I will sit also upon the mount of the congregation, in the sides of the north: I will ascend above the heights of the clouds; I will be like the most High. Yet thou shalt be brought down to hell, to the sides of the pit." Isaiah 14:13-15
EDITOR'S NOTE: Yes, these photos are 100% real and unphotoshopped. These "horns" really are appearing over his head. Here are links on some high-level main stream media news sites that verify the authenticity of the photos used in this article: 1). USA Today 2) New York Daily News 3). Business Insider 4). National Review
When Barack Obama was first elected in 2008, he was constantly pictured with an angelic glow surrounding him. Artists would frequently draw him with a halo surrounding his head. He was the Liberal Messiah for a lost and dying world. But something changed along the way. Halos have given way to horns. Scary, dark, nasty looking horns.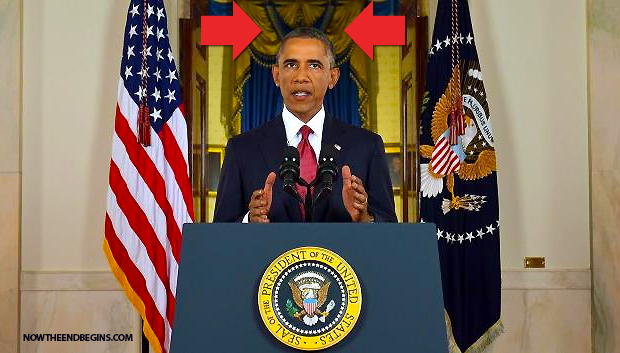 No, this is not Photoshop, this is your president
Obama, seen here giving a speech on ISIS and Islamic terrorism last night, was photographed in a startling way. He appeared to have twin horns protruding from the sides of his head in a kind of demonic apparition.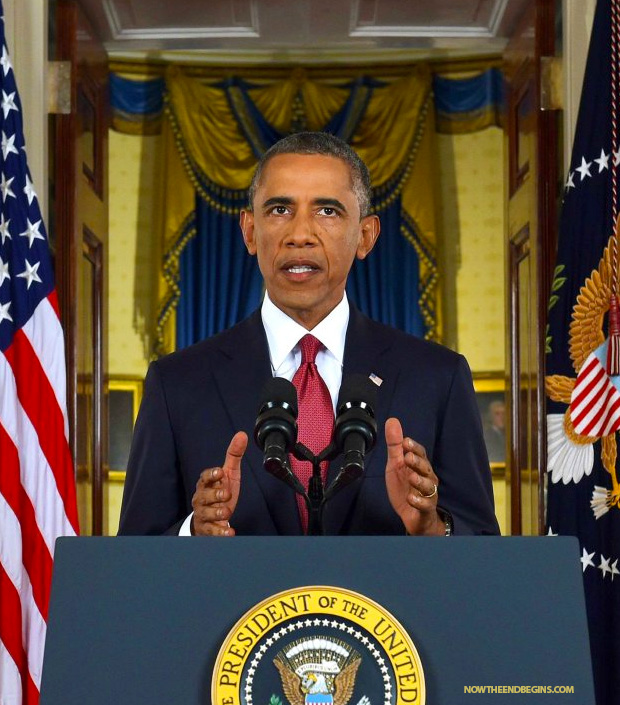 Full size image, click to see story on Business Insider.com
Are we beginning to see the true source of his power of his presidency? You decide.
This is weird, Obama had horns in the photo. This is not a joke it is actually quite symbolic. The moves this puppet is making are truthfully going to end this nation, and other economies around the world. This is where we all need to ask a few questions, why would they pose him with a background that looks like horns? Remember there are no coincidences, and this is not an accident. This shows something, what it shows is truly disturbing. Obama is being controlled, by something demonic. No, he is not The antichrist.  He completely ignores Christians, in fact he persecutes them. Christians are labeled radicals, they are labeled terrorists simply because there is power in the BLOOD of Jesus Christ!
If this picture didn't quite depict what 2127news is trying to show please look below and you will see exactly what we are trying to show you!
Now, you see? Yes, this is the same statue that has been erected in Oklahoma, and also the same one that is going up in Detroit! Stop the satanic takeover of America. Satanists have always been here, but we have fought them tooth and nail. Now they are fully in power, and fully control the US government. Every move Obama and his minions make has been planned long ago. See this is that tiny book in the back of your bible called Revelations. It tells the return of Christ and the hell to pay.
Also, others noticed something that was quite odd and noticeable in his pictures. The American flag is crooked, this little tiny flag shows a lot. We are tipping toward destruction on a daily basis. The more these minions are in power, the closer we are to total destruction. This is the president, little mistakes like that make the news. It shows lack of care in his decisions. It shows a lot more than a simple everyday, you and I mistake. It shows the end of America is nigh. How you might ask? Simply because the top right of the flag is pointing to almost 12 o'clock. That is the time that tribulations begin according to scripture. Are we near to 12 o'clock? You better believe it.
The other strange anomaly during his speech is that he appeared to be on a green screen. This also shows how it differs from picture to video. See below:
Obama in NY times photo
Obama during the speech, on video
Odd right?