Jury decides Duggan was lawfully killed despite concluding he was not holding gun when police shot him
The family of Mark Duggan, whose death sparked the worst riots in modern British history, reacted with fury when an inquest jury ruled on Wednesday that police acted lawfully when they shot him, even though he had not been carrying a gun when he was killed.
By a majority of eight to two, the jury ruled that the 2011 shooting was lawful. The jury said they were sure, by the same eight-to-two majority, that Duggan did not have a weapon in his hands when police surrounded him. By a majority, the jury concluded he "threw" the gun from a cab he was travelling in when armed officers forced it to stop.
The family described the jury's conclusion as perverse and said they would consider a judicial review.
Duggan's mother, Pam, broke down in court on hearing the finding and his brother Marlon shouted at the seven women and three men on the jury as they left the courtroom.
Later, outside the court, Duggan's brother Shaun Hall, with tears visible on his face, told the Guardian: "It's unbelievable. That's just about what I can say for now."
Duggan's aunt Carole Duggan said he had been "executed", while the family's lawyer Marcia Willis Stewart said they were in a state of shock and could not believe the outcome.
She said: "On 4 August 2011 an unarmed man was shot down in Tottenham. Today we have had what we can only call a perverse judgment.
"The jury found that he had no gun in his hand and yet he was gunned down. For us that's an unlawful killing."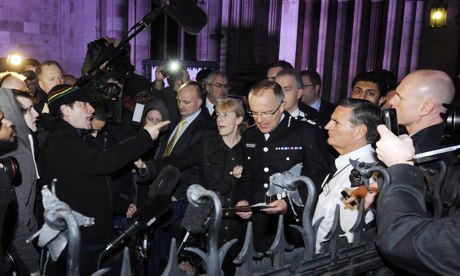 The Met police's assistant commissioner Mark Rowley struggles to make himself heard as he gives a statement. Photograph: Facundo Arrizabalaga/EPA
As her words were interspersed with shouting from a gathered crowd, she went on: "No gun in his hand and yet he was killed – murdered as they have said, no gun in his hand."
Shortly afterwards, the Metropolitan police's assistant commissioner Mark Rowley, struggling to be heard above shouting from supporters of the Duggan family, said the force's sympathy was with the family who had "lost a loved one", but officers had to make "split-second decisions when confronting armed criminals" and that there was a small risk that fatalities could follow.
Rowley said: "Armed criminals have shot dead more than 50 people in London in the last three and a half years. We send out well-trained, professional armed officers thousands of times a year to combat this threat, only firing shots once or twice. These careful tactics have significantly reduced gun crime.
"It is significant, then, that a jury of Londoners, who have seen and heard all the evidence, have today concluded that not only was the operation to stop Mark Duggan in the taxi conducted in a way which minimised to the greatest extent possible recourse to lethal force, but that Mark Duggan had a gun, and also that our officer had an honest and reasonable belief that Mark Duggan still had the gun when he shot him.
"We know the trust is not shared by everyone. I will be offering to meet Mark Duggan's family to express our sorrow. And we will continue working with local leaders to strengthen relationships. We know it will take time."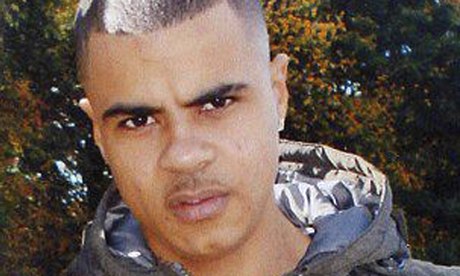 Mark Duggan was shot dead by police in Tottenham, north London, on 4 August 2011. Photograph: Rex Features
The Tottenham MP, David Lammy, said questions needed to be answered to allow the relationship between the community and the police to heal.
The Labour politician said: "Despite this [conclusion], the reputation of the Metropolitan police has not emerged unscathed.
"The jury found that a number of key errors were made by Operation Trident and Soca officers in the hours leading up to the shooting. There are fundamental and lingering issues that the Independent Police Complaints Commission investigation – now re-opened – must attempt to clarify.
"These questions must be answered not just for the sake of the Duggan family but to diffuse the confusion, conjecture and suspicion that continue to surround the events of that August evening."
The Hackney North and Stoke Newington MP, Diane Abbott, said she was baffled by the jury's finding, which she said would raise a lot of questions in the local community.
Writing on Twitter, Abbott said: "If the Duggan jury believe that he did not have a gun in his hand when he was shot, how can they find it was a lawful killing? baffled."
And she told BBC Radio 4's PM programme: "There's going to be a lot of questions asked in the community this evening."
Deborah Coles of the group Inquest, which supported the Duggan family, said the findings were not an exoneration of the police. "The Met should be very concerned that an inquest jury has found an unarmed man was shot dead by police and were critical of intelligence failings."
The officers had intercepted the 29-year-old in an operation based on intelligence that he was part of a gang and had collected a gun. He was being followed by officers who believed he planned to pick up a gun from another man, Kevin Hutchinson-Foster, and then move on to Broadwater Farm, also in Tottenham.
The jury said police had not done enough to gather and react to intelligence about the possibility of Duggan collecting a gun from Hutchinson-Foster.
But they found that the car had been stopped in a location and in a way that "minimised to the greatest extent possible recourse to lethal force".
The Metropolitan police shooting in north London on 4 August 2011 sparked the worst riots in modern English history.
The inquest, which began in September, was told by police that Duggan was shot twice after he produced a gun when surrounded by armed officers.
The narrative verdict was delivered at the Royal Courts of Justice in central London, after the jury had deliberated for six and a half days. They were originally sent out on 11 December 2013 and then broke for two weeks for the Christmas and new year holidays.
Duggan died "within 10 heartbeats" of a bullet striking his aorta. The jury was told police believed Duggan was a member of TMD, Tottenham Man Dem, which officers believed had links to guns used in nightclubs.
The officer who shot Duggan twice, known as V53, testified he had seen a gun in Duggan's right hand, and believed the suspect was preparing to use it. V53 said he had acted in self-defence, fearing that his own life or the lives of his colleagues were in danger from Duggan.
The key issue for the jury was whether Duggan was holding a gun, as the marksman said, when he exited the cab and came face to face with armed police.
V53 and a second officer, W70, told the jury they had both seen Duggan holding a gun but were surprised when they could not find it later.
In fact, a gun, wrapped in a sock, was found on the other side of a fence three to six metres (10-20ft) away from where the fatally injured Duggan fell to the pavement, the jury heard. The gun was capable of being fired but had not been "racked", so was not ready to fire.
Neither the gun nor the sock had any DNA or fingerprints from Duggan on it. Gun residue was also absent from the deceased, save for a speck in his back pocket which the jury was told was scientifically irrelevant. His fingerprints were on a shoebox found inside the cab in which it is believed the gun had been stored, and traces of the drug ecstasy were in his bloodstream.
Source: theguardian