American people are already exhibiting their dissatisfaction such as this Facebook post about the reality of Obamacare setting in and what it means to your family and checkbook. A post on GLP shares what we have to look forward to with Obamacare and even more so, what happens when we choose not to opt in. You can see a screenshot of the Facebook post below as well as a video below from Christopher Greene on the emerging horrors of Obamacare.
I just saw a repost from a Facebook page – An alleged comment on the Affordable Care Act FB page states that a person had signed up online, under the $45-55,000 income range, pre-existing condition of type I diabetes. They chose the "Silver" plan…
Their premium came back as $597 per month, with an almost $14,000 annual deductible! And when the person clicked the "opt out" option, they shortly received an e-mail stating that their fine would be $4,037, and could be attached to their annual tax return and if you don't have the $4,037 on time, then the repercussions for non-payment begin with your drivers license being suspended until the fine is paid, and if it goes 24 months without payment, a tax lien is placed on you property. It gives you the option to provide your bank info so your penalties can be withdrawn weekly, or biweekly, etc.
That comes out to about $350/month for not opting in, or $597 plus pretty much all your medical expenses for the year out of pocket (deductible) – unless you have some type of major surgery or catstrophic illness, which you then get to cough up $14,000 plus your monthly payments.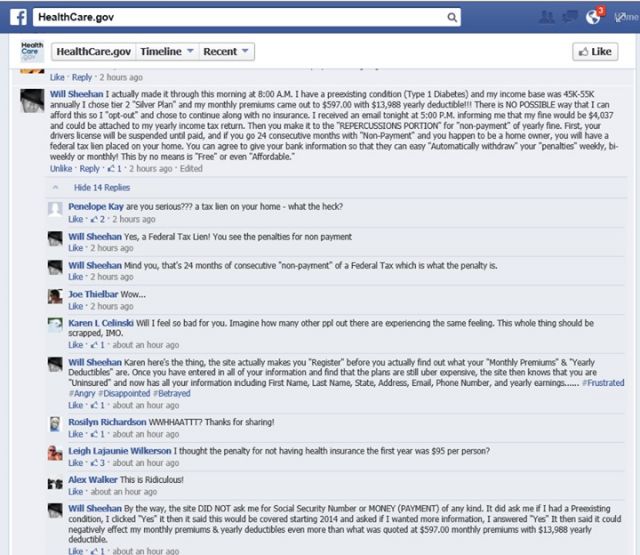 [youtube]sFa9B_MSUbw[/youtube]